Mysterious Tesla Model 3 Photos Spark Advanced Charging Rumors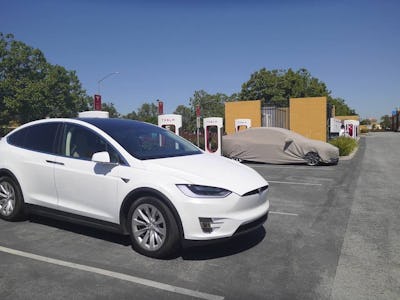 Twitter/TheTeslaLife
A Tesla Model 3 has been photographed at a charging station under covers, sparking rumors that the company is planning a more advanced charging system. Set to enter production this July, the $35,000 vehicle has been spotted without any disguises on a number of roads over the past month, making this sighting all the more mysterious. Fans are speculating that the car has been covered to stop people from looking at the computer's user interface during charging.
"Mark my words," a user called dmarkle said in the Electrek comments section. "[Charge] rate is the "dark horse" feature of the Model 3 that very few people are talking about."
Witnesses speaking to the publication say that a white Model 3 pulled up at one of the company's own "superchargers" in Gilroy, California. But as soon as the car pulled up, the passengers immediately covered the car to stop anyone from seeing it charging. After charging, the vehicle was uncovered and pulled away with a BMW following behind, a common sight in the company's public tests.
It's unclear why the car was covered, but its charging capabilities do remain a mystery. The Model 3 is the first car to use the 2170 cell, a special battery developed jointly by Tesla and Panasonic, produced at the Gigafactory in the Nevada desert. During a November conference call, CEO Elon Musk described the cell as "the best cell in the world that is also the cheapest."
The superchargers, a global network of specially designed chargers, are the fastest way to charge a Tesla in public. There are 828 stations around the world, with 5,339 charging points, and they form the backbone of Tesla's strategy to make charging easy. The chargers are capable of outputting up to 145kW of power, but the Model S and Model X are only capable of receiving 120kW.
The power output affects charge speed, so while a 90kWh Model S will take around 10 hours to charge from a NEMA 14-50 power outlet, a supercharger will enable the car to charge from zero to 100 percent in just 75 minutes. It's possible the Model 3 supports faster charge times than these, which could explain the secrecy around a vehicle that's been spotted numerous times uncovered already.
It's possible that the Model 3 is capable of charging at a faster rate using the existing superchargers, but it's also possible that the car has been designed with a future version of the supercharger in mind. Musk said on his Twitter page in December that the company is working on a new version of the charger.
The Model 3 could be the first car to support these higher speeds.