Fans of 'The Flash' Have Mixed Feelings About the Savitar Reveal
by Monica Hunter-Hart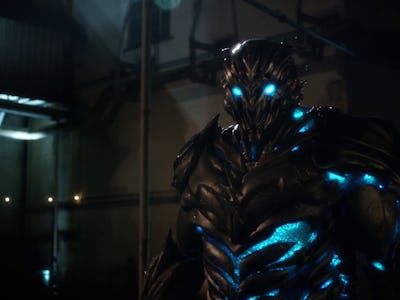 DC, Warner Bros. Television
Tuesday's episode of The Flash finally gave fans the major reveal they'd been waiting for: the identity of the evil speedster Savitar. Viewers took to Twitter to express their reactions, which included everything from glee to disgust — but little surprise.
Warning: Spoilers follow for The Flash Episode 20.
So, Savitar is future Barry; this was the most plausible possibility. In the episode's final scene, four-years-younger Barry approaches the Speed God in metallic armor and calls out, "I know who you are." He lays out his observations for Savitar: that the god had seemed to anticipate what Barry was going to do and say, but that instead of anticipating Barry's actions he'd been remembering them. "You remember when you were me," he says.
Savitar, stepping out of his armor to reveal a slightly older Barry with a deformed face, confirms it: "Like I told you from the beginning, I am the future Flash." It's a bit of sly inflection play; Savitar's words were first interpreted to mean "I am the future, Flash."
Some folks were shocked by the reveal.
But most saw it coming. Many circulating fan theories had speculated that Barry was Savitar, and it's not exactly a new plot twist, even if Grant Gustin (who plays Barry) was convinced that nobody would figure it out. There were plenty of hints within the episode leading up to the reveal, too, with Killer Frost dropping lines like, "You two are more alike than you realize."
With the Caitlin/Killer Frost storyline, The Flash is already covering the evil counterpart trope. Many found the twist uncreative:
One thing's for sure: The reveal, regardless of its originality, is already providing great fodder for memes.
The Season 3 finale of The Flash will air on May 22 at 8 p.m. Eastern. Get ready for a Barry vs. Barry showdown.