Judd Apatow's 'The Big Sick' Trailer Will Hardcore Charm You
'The Big Sick,' written by real-life couple Kumail Nanjiani and Emily V. Gordon, tells the story of how they met.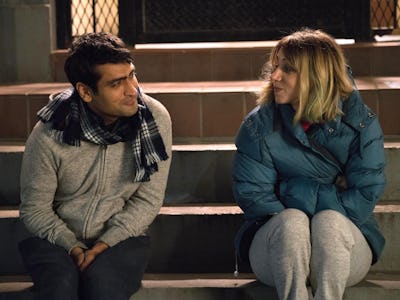 Entertainment Weekly
Say what you will about Judd Apatow, but the guy certainly has an eye for emotionally engaging standalone love stories. The Big Sick, which Apatow produced, tells the true story of Silicon Valley actor and stand-up comedian Kumail Nanjiani meeting his actual wife, writer Emily V. Gordon. The film charmed audiences at Sundance, and it's not hard to see why. To make an already delightful creative team even more exciting, The Big Sick is directed by Michael Showalter, most famous for co-writing Wet Hot American Summer with David Wain.
In the film, Kumail is still figuring himself out when his ex-girlfriend Emily (Zoe Kazan) — whom he lost because he avoids commitment and is nervous about pleasing his Pakistani parents — comes down with a life-threatening illness. He gets to know Emily's parents while staying by her bedside.
Co-producer Barry Mendel (Trainwreck) told IndieWire that the script was considered a surefire hit almost immediately after it was pitched to studios. "I came back from a meeting," Mendel said, "and there was literally a sheaf of paper saying, 'We agree to finance the film and it's your choice who to cast."
It's a relief to see a comedy coming down the pike that clearly has a genuine heart to it. Watch the full trailer for The Big Sick below.
The Big Sick hits theaters on June 23.