'Stranger Things' S2 Might Introduce Lucas's and Dustin's Parents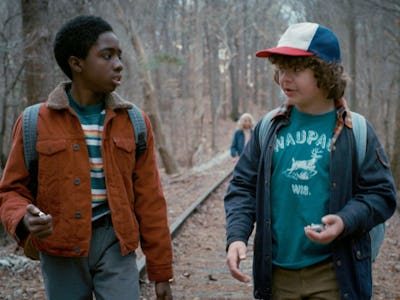 Netflix
Supposedly, Dustin and Lucas weren't running around Hawkins, Indiana, without their parents worrying about them at home. A recent interview with the cast of Stranger Things hints at, finally, a more flushed-out home life for two members of the beloved gang, Dustin and Lucas.
Mike's overstressed mother and apathetic father were featured heavily in the first season of Stranger Things, as was, obviously, Will's mom, Joyce Byers (Winona Ryder). But Dustin and Lucas have been pretty firmly sans-direct parental support throughout their misadventures so far.
"The great thing about this season is you get to see insights into each character on their own," Gaten Matarazzo, who plays Dustin, said in an interview with Emmy Magazine. "You're going to see a lot more into the lives of how the characters are coping with what's been going on… They're all very emotionally scarred. They feel alone because their best friend is back, and he's not acting like their best friend anymore. He's changed."
Saturday Night Live famously parodied Lucas's parents back in October 2016 when Lin-Manuel Miranda hosted. In the sketch, Lucas's parents — played by cast members Leslie Jones and Kenan Thompson — are furious their son has been running around with his friends in the woods, chasing down a monster.
Fans got a brief look at, presumably, Lucas's parents at Will's funeral in Season 1, Episode 5, "Chapter 5: The Flea and the Acrobat." But it was little more than a glance of them looking appropriately sad over the "death" of their son's friend. Dustin's parents are still nowhere to be found. Getting "insights into each character on their own," as Matarazzo said, will hopefully mean fans will finally be reassured that Dustin isn't somehow an orphan living on his own.
Stranger Things Season 2 premieres on Netflix on Halloween, October 31.