The Scariest, Most WTF Horror Movies of 2017 So Far
Everyone deserves a good scare.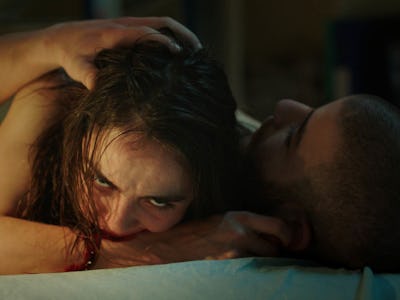 Focus Features
Unfortunately, not all horror movies are scary. And while your definition of "scary" probably differs greatly from the person standing right behind you, some films are universally scary. Some films make everyone say "what the fuck" or jump in their seats before trying to pretend they didn't. So far, 2017 has been a pretty good year for horror, so we thought we'd round up the freakiest films of the year. These are the movies that really got to us.
Below, you'll find an ongoing list of psychological horror, social thrillers, supernatural fear, and just general blood-soaked mayhem. Whether you're into gore, demons, or the unexplainable, these are the horror movies in 2017 that you really need to check out. Because everyone needs a good scare every once in a while, everyone scares differently, and horror films shouldn't be reserved just for Halloween.
Here are the scariest, most WTF horror movies of 2017:
Split (January 20)
Okay, so Split isn't all that scary, but there's one scene when Kevin is realizing his "full potential" that will undoubtedly fuck you up. It's after he's kidnapped three girls, who have to grapple with his 23 personalities — and the slowly-emerging 24th. If they can get one of the personalities to help them, maybe they can escape. Or maybe he'll kill them and do something awful, as his psychiatrist fears he will.
Type of scare: Psychological thriller
Get Out (February 24)
Jordan Peele is out to scare the world with just how fucked up the world is, and, boy, it works. Get Out is terrifying in that it reminds you of all the evil things in our own world. And then there's also torture, surgery, mind control, and blood. Chris goes to visit his girlfriend's parents, who are surprised to learn that their white daughter is dating a black man. Assured by his girlfriend, Rose, that her parents aren't racist, Chris can't help but know something is up. As if suburbia weren't already terrifying enough.
Type of scare: Psychological horror; Graphic violence
The Girl With All the Gifts (February 24)
If you're one of those people who's still scared of zombies despite the plethora of zombie content out there in the world, this is not a good movie for you. Featuring child zombies, The Girl With All the Gifts is named Melanie, and she's an intelligent child zombie who can control her urges. The world has been overrun by a zombie infestation, and the last of humanity hopes to use these children as a means to make an antidote. You can imagine how well that goes.
Type of scare: Zombies; Zombie-appropriate gore
Raw (March 10)
This is that cannibal movie you were hearing about after people reportedly fainted during a press screening at the Toronto International Film Festival. That's because the movie is a disturbing gore-fest about a vegetarian who is forced to eat rabbit kidneys during a hazing ritual for veterinarian school. She finds that she has a craving for raw meat after that, and things go very downhill from there as she navigates her ne desire.
Type of scare: Violently graphic cannibalism
The Endless (April 21, Tribeca Film Festival)
Two brothers who escaped the cult they were adopted by years ago return after the younger of the two grows curious. He only remembers the good things, the sense of family and belonging. There's no way the cult is as dangerous as his older brother insists it is. So, they go back, only to realize that being children protected them from the dark truth. An evil, unknown force controls the daily lives of the cult members and threatens to drag the brothers in as well.
Type of scare: Psychological horror
Still/Born (April 27, Overlook Film Fest)
After winning Scariest Film from the Overlook Film Fest, Still/Born is receiving some nice press as a truly horrifying take on what happens when one of two twins is stillborn. Mary, a new mother, gives birth to twins but only one of them is alive. While taking care of her remaining child, Adam, she suspects that something, a supernatural entity, has chosen her child and will stop at nothing to take it from her.
Type of scare: Psychological thriller
A Dark Song (April 28)
A woman determined to see her dead son again hires a "damaged occultist" to perform a dark ritual. The man seals them inside a house and performs the ritual, unleashing the spirit realm. But, as things get weirder and weirder, the woman starts to wonder just how much of it is real, and just how much of it is her head.
Type of scare: Supernatural horror; Psychological thriller
It Comes at Night (April 29, Overlook Film Fest)
The secret midnight screening on the final night of Overlook turned out to be It Comes at Night, a highly anticipated supernatural thriller about a humanity harassed by an unknown force. A man has managed to carve out a peaceful living space for his wife and son, only for their tenuous situation to be thrown into chaos by a young family.
Type of scare: Supernatural horror
Annabelle: Creation (August 11)
The fourth film in the Conjuring series, Annabelle: Creation is filled with jumpscares galore. An origin story for the Annabelle doll previously introduced in The Conjuring, the aptly named Creation focuses on a group of young orphans living in a rural farmhouse. The house is haunted by a couple's dead daughter, and things get very dark very fast.
Type of scare: Haunted doll
It (September 8)
You knew it had to be here. It, based on Stephen King's 1986 supernatural horror novel of the same name, is just as haunting as the book it spawned from. Bill Skarsgard's Pennywise lures the children of Derry, Maine, into the sewers, praying on their fear and transforming himself into whatever scares a kid most. Be on the lookout for the leper — it'll make you jump.
Type of scare: Supernatural horror; Clowns