Underwood Is an Aspiring Dictator in New 'House of Cards' Trailer
Frank Underwood is the evil, competent president of your nightmares in 'House of Cards' Season 5.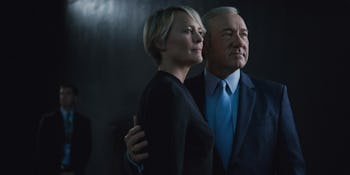 Netflix
The only thing worse than an evil president is an evil, competent president — and that's exactly what Frank Underwood has proven himself to be. The power-hungry Underwood (Kevin Spacey) is returning for a fifth season of the popular Netflix Original Series House of Cards, and a new trailer promises he'll be as chilling as ever.
"The American people don't know what's best for them," Underwood says to his wife Claire (Robin Wright). His words are backed with images of protestors and a country working against him, with crimes and death and men with guns running through the woods. "I do. I know exactly what they need. They're like little children, Claire. We have to hold their sticky fingers and wipe their filthy mouths, teach them right from wrong, tell them what to think and how to feel and what to want."
"They even need help writing their wildest dreams, crafting their worst fears," he continues. "Lucky for them, they have me. They have you.
"Underwood 2016. 2020. 2024. 2028. 2032. 2036.
"One nation. Underwood."
Clearly, Frank's plans fall a little out of line with the two-term limit set for the office of President of the United States. Not that rules have ever stopped Frank from doing horrendous, unspeakable things in the past. Manipulating the system is what Frank does best. And while American citizens IRL often enjoy sprinting down the rabbit hole of "what if" regarding our own current president, at least he's not Frank Underwood.
House of Cards Season 5 premieres on Netflix on May 30, 2017.