New 'Wonder Woman' Teaser Offers First Fleeting Glimpse of Ares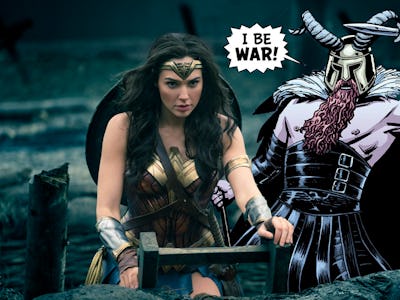 Warner Bros. 
Wonder Woman may be a war movie, since it's set in the trenches of World War I, but it's still a superhero movie. That means there's a supervillain, and Wonder Woman is going to battle with Ares, the Greek god of war. We haven't seen much of Ares yet, but one of two new trailers that came out on Thursday night contains a fleeting glimpse at the big bad.
The spot, "Power," doesn't reveal much, as Ares's appearance is very much of the "blink and you miss it" variety. At about 11 seconds into the teaser, we see Diana use her bracelets to defend herself from an attacker who is barely in the frame. It's quick, but you can make out what look like horns, presumably from Ares's helmet.
As far as accidental reveals go, this isn't much, especially since Lego already spoiled Ares's appearance, albeit in brick form. That toy, a set called "Wonder Woman Warrior Battle" shows a massive Ares looming over Steve Trevor's plane. He's wearing a horned skull helmet and wielding a nasty sword.
Watch the two new TV spots below for more. The first one features the quick shot of Ares, while the second reveals how Wonder Woman got her secret identity, Diana Prince.
Wonder Woman hits theaters on June 2, 2017.