Here's Elon Musk's First Boring Machine for The Boring Company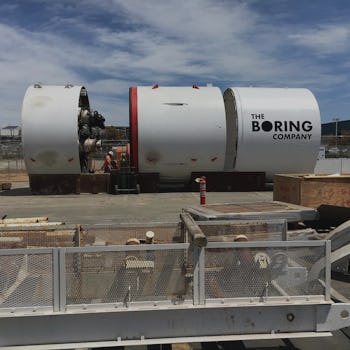 davesvanlife/Instagram
Elon Musk's Boring Company is actually real, and we now have the photo to prove it. Instagram user "davesvanlife" shared the first photo of the tunnel digging firm's machine on Thursday, emblazoned with the straightforward monotone logo.
Musk had started to make a habit of regularly floating the idea of a tunnel digging company, and it seemed like the concept was never going to materialize. In January 2016, he told students at the SpaceX Hyperloop Design Competition in Texas that the way to alleviate congestion was to build more tunnels. In December, he said on his Twitter page that "traffic is driving me nuts" and that he was "going to build a tunnel boring machine and just start digging."
In January, he announced plans to build a tunnel from his desk at SpaceX to Crenshaw and the 105 Freeway. The rest, as they say, is history:
The company is aimed at solving transportation issues by building tunnels under cities. It's not just cars and subways that could benefit from a tunnel network: Musk has said that his idea was created with hyperloop in mind. Musk envisions a 3D network of tunnels connecting up a city, running 30 tunnels deep.
Musk's major challenge is to make tunneling more efficient. He told reporters that he was looking at buying a boring machine called Nannie that takes a week to tunnel 300 feet, a speed that he believes could be improved to a mile a week. Boring technology, he explained, has barely progressed in the past 50 years, and this has led to overly expensive tunneling projects. Boston's "Big Dig," which moved an interstate section underground, cost $12 billion more than expected.
There are two key factors that could benefit from technological improvement. With current machine designs, it takes a long time to actually remove dirt from the tunnel. If a company could invent a boring machine capable of digging while tunnel walls are being built, that would also reduce project times.
If successful, the Boring Company could do what Tesla and SpaceX did for the electric car and space industries respectively: take an existing sector, and work out how to make it more efficient. At least now Musk will never get stuck in traffic again.