Analyst: Tesla Could Sell a Million Cars Far Sooner Than Predicted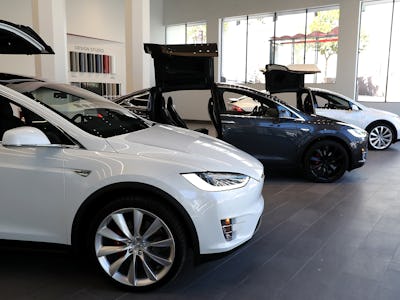 Getty Images / Justin Sullivan
Electric car-maker Tesla is on course to sell one million cars per year by 2020 or 2021, according to a fund that saw big returns from buying shares in the company. If it comes to fruition, Tesla would increase its global sales by more than tenfold in just four years, transforming it from a niche automaker into a mainstream competitor.
In a letter to shareholders released Tuesday, Baron Partners Fund claimed that Tesla could start earning $70 billion in annual revenue and $7 billion in operating profits in just four years time, money that will be used to expand the business to several times its size. Last year, Tesla reported revenue of $7 billion and did not make a profit.
"A lot has to go right for that to take place," the letter signed by Ronald and Michael Baron said. "But, few public businesses have such an opportunity or 'story' as skeptics believe. We think the odds of success for Elon Musk's Tesla are favorable."
The fund has seen success in the past with its Tesla bets. The team first started buying shares in 2014 at around the $200 mark. Overall, the fund has bought 1.1 million shares for an average cost of $213.35. Tesla stock opened on Thursday at a price of $311.69, meaning the fund has seen an increase of around 46 percent.
Although the fund has a good track record, its predictions would represent a dramatic increase in Tesla's current output. Last year, the company narrowly missed its goal of selling 80,000 cars, clocking in at just over 76,000. In the first quarter of 2017, it set a new record by delivering 25,000 vehicles.
Tesla has big plans on how to expand its output. The Gigafactory, currently under construction in the Nevada desert, is expected to be the world's largest building by footprint at 5.8 million square feet. Thanks to a combination of advanced technologies and sheer scale, the factory will produce batteries suitable for the company's cars at a faster rate than bullets fired from a machine gun. Factory construction costs have already surpassed the $1 billion mark.
The company's official goal is to reach an annual production rate of 500,000 cars by the end of 2018. Half of that output will be the $35,000 Model 3, an entry-level vehicle expected to enter production this July that will significantly undercut the $68,000 Model S to claim the title of Tesla's cheapest car. The Model 3 and Gigafactory are critical to Tesla's future expansion.
But even at one million, Tesla would pale in comparison to the major players in the auto industry. The Volkswagen group sold 10.31 million cars globally last year, with Toyota trailing behind in second place with 10.18 million sales.
General Motors, which claimed third place in sales, sold 9.97 million cars. But earlier this month, Tesla briefly overtook GM in terms of market cap to claim the title of America's most valuable car company. Tesla may currently lack the sales numbers of its competitors, but investors are showing confidence that the company has a bright future ahead.