'The President Show' on Comedy Central Has the Deepest Trump Impression
"What's the most possibly real thing that could happen?"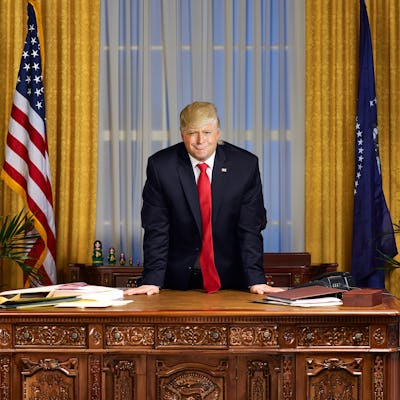 The lights dimmed and then began to strobe in bursts of color, and AC/DC's "Thunderstruck" pumped on on the studio speakers. "Donald Trump" strode to the podium, soaking in the spotlight and imagined adoration, about to make the opening remarks about his new nightly talk show, aptly named The President Show. He welcomed "the crooked media" to his Oval Office set, noting that some in the audience were "way more bangable" than he expected.
Winding up, Trump called former rivals Jeb Bush "a human roofie," Marco Rubio a "realtor who hangs out in the model home to escape his wife," and Ted Cruz "a defective Yankee candle." Then it was on to his new rivals: "Failing" Fallon, "Kill Me" Kimmel ("the Chris Christie of late night"), and the "terrible, terrible" Stephen Colbert. In ranting, tangential responses to questions from reporters, he ripped on animal expert Jack Hanna, explained the plot of The Brady Bunch, ensured the audience that his daughter Tiffany wouldn't be seen on screen, and boasted about how he hit on women with deposed Fox News anchor Bill O'Reilly, using the lessons laid out in the maligned pickup manual The Game.
That the studio was actually on 54th street in Manhattan, and Trump was being played by the comedian Anthony Atamanuik, almost made it an even more bizarre scene, because so much of it felt so plausible. Donald Trump has always had an insatiable thirst for the spotlight and built his late-career image on The Apprentice. When it seemed like he would not win the election last November, it was rumored that he was exploring to start his own TV network. Now that he's in the White House, he doesn't have time to launch that kind of endeavor, but his continued use of Twitter and big rallies suggest that he craves a studio audience more than an audience with foreign dignitaries.
"I'm living his dream, and he can take this show over, if he wants. I'll go to the White House," Atamanuik tells Inverse. "That was the conceit of the show: What's the most possibly real thing that could happen?"
Atamanuik began doing his impersonation of Trump in summer 2015 and began hosting a series of similar "press conferences" at the Upright Citizens Brigade in New York that August. He'd go for 90 minutes straight, answering questions in character as the then-candidate, studying the endless hours of cable news coverage of Trump's speeches and rallies. The UCB show turned into the "Trump vs Bernie" road tour with fellow improv vet James Adomian playing Democratic presidential aspirant Bernie Sanders. They made stops for TV appearances, like their debate on Comedy Central's @Midnight — a clip is below — and that relationship led to the network investing in a weekly TV series starring Atamanuik as Trump.
The President Show was an idea first hashed out with his old friend Adam Pally (Happy Endings), who is a writer. Comedian Peter Grosz joins him as Vice President Mike Pence.
The 18 months spent playing Trump has left its mark on the 42-year-old. Atamanuik says that he feels empathy for Trump and admits that after exploring his mind and inhabiting his body for so long, a sort of Stockholm Syndrome can set in. But he has little respect for the qualities Trump brings to the Oval Office ("his fascist tendencies and his lack of interest and intellect are dangerous") or the policies he has tried to enact ("he's done some terrible, terrible things as president already").
The President Show staff devised several segments per episode, including a monologue from a lectern and interview with a guest (Keith Olbermann is up first). But they'll have to tap Atamanuik's penchant for improv because the frantic churn of the news cycle creates a volatility that can be hard to handle. Trump can produce a frenzy with a single tweet, whether it's commenting on a TV show or threatening to trigger a nuclear war, and it makes writing a show that airs once a week tricky task; in fact, The President Show staff had to scrap the original script for their first test show and rewrite it the day of the shoot because North Korea had launched test missiles, giving the Trump administration its first major test of diplomacy.
"You sort of monitor everything and make a bucket of things that stand out the most: What was this moment in the Oval Office that we didn't get to see?" Atamanuik explained of the approach to writing each episode. "We tried to ramp that up to Thursday, but we also have a thematic quality to the show. Every show has a theme. This first theme is 'America First.' It's a joke for our first show, and also he's co-opting that crazy phrase."
As much as Trump is the "star," The President Show is as much a product of its creator's political beliefs. When not inhabiting Trump in mind and body, Atamanuik sounds more like Sanders than Trump: He rails against "corporatist" Democrats, CNN's obsession with the now-president's campaign, and the media's role in normalizing Trump, creating an illusion of permanence for the public institutions that are now under attack.
That critical perspective will help inform the show, to keep it from descending into simply a portrait of a buffoon.
"It's going to go through the different pillars of his personality and ideology that lives in the White House, and also go through the pillars of ideology of corporatist Democrats not really fighting the good fight like that they should be right now," he tells Inverse. "Even the controversy over Obama taking $400,000 to speak to a private healthcare conference. These things are reflections of a greater systemic problem, and our job on this show is to figure out how to make all those points."
He reaches back to this point several times, and bristles at the idea that a comedian could be seen as responsible for normalizing the president's unprecedented behavior. And he knows how deeply unnerving Trump's words can be, because few people this side of Steve Bannon have studied them more closely.
Of all the Trump impressions out there — including those by Alec Baldwin and Jimmy Fallon — Atamanuik's is the most believable. Yes, he nails the physical mannerisms: He's got the hunch down. He impressively owns the orange makeup and yellow wig. He persuasively sucks in his cheeks. But he also draws on his own psychological exploration of the president.
"I like to say I'm doing an impression of his soul. I always say that if you took Frank Sinatra and you threw him in a bog for 4,000 years and dredged that out, that would be Trump, with all the rotted charm," Atamanuik told reporters. "He fancies himself as a Rat Packer, but he's an insecure dowager living in a mansion. He tells himself a story, and you're just witnessing it."
Later, he adds: "He's a person, and that's probably where the impression succeeds. I'm portraying him as a person."
Ultimately, Atamanuik sees Trump as nervous and scared, intimidated by his new, awesome responsibility. In character as Trump, Atamanuik says this: "I would definitely choose for me to be on the show, and for me not to be president."
The President Show premieres at 11:30 p.m. Eastern on Thursday.