'Call of Duty: WWII' Features a Zombie Nazi Storyline
It's not exactly going to be canon, but it's story-based nonetheless.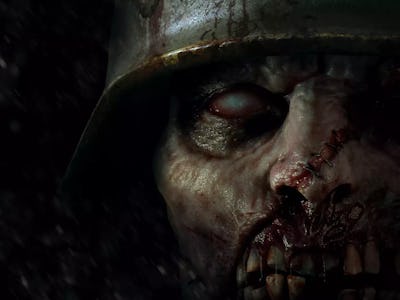 Call of Duty: WWII promises a gripping, emotional return to the franchise's roots in the horrors of the Second World War. It is also going to deliver some Nazi zombie action.
That's right, Call of Duty: WWII will feature "Nazi Zombies, an all-new cooperative mode featuring a unique standalone storyline set during World War II." The new game mode seems like it might differ a bit from the franchise's zombie game modes of the past. Whereas past zombie modes have been a bit light on the story-based elements, it appears that the latest installment will feature tie-ins to the main game's narrative.
Namely, the "Nazi Zombies" co-operative experience will see American soldiers fighting against an army of Nazi zombies that the Third Reich created in the final days of the war in a last-ditch effort at achieving victory. But, keep in mind that it's billed as a "standalone storyline" and will in no way be considered a canon rewrite of history.
Check out the worldwide reveal trailer for Call of Duty: WWII here:
The official word is that we can expect more information about Call of Duty: WWII's multiplayer modes at E3 in June and more on Zombies sometime after that.
Call of Duty: WWII comes out on November 3, 2017.