The 7 Best 'Guardians of The Galaxy' Behind-the-Scenes Photos
From Star-Lord's guns to Gamora tweeting.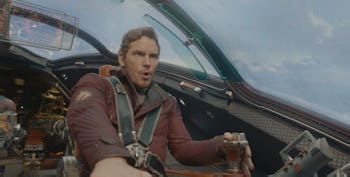 Marvel Studios/ Facebook
As weird and wild a ride as Marvel's Guardians of the Galaxy franchise is, it might be just as fun behind the scenes. Director and writer James Gunn is known for his playful touch and his readiness to take his fans into his process behind the music and color — and in the case of Guardians of the Galaxy and Guardians of the Galaxy Vol. 2, this involves sharing snippets of what happens between takes, from Mantis chilling with Gamora to the new characters checking out Star-Lord's guns.
The second installment, which is getting favorable reviews so far, follows Peter Quill as he learns more about his parentage and the rest of the gang as they struggle to stay together, acquire new members, and tackle a new job while navigating their reputation.
Here are the best of Gunn's behind the scenes photos that show how these films might be just as fun behind the scenes, just in a very different way.
1. This photo of everyone sleeping and tweeting
2. This photo of Zoe Saldana's Gamora and Pom Klementieff's Mantis
3. This photo of Gunn and Michael Rooker joking around
4. This photo of Kurt Russell trying Star-Lord's guns
5. This photo of Gunn directing a scene with finger guns
6. This photo of Dave Bautista and the makeup team responsible for his look
This photo of James Gunn insisting he's not short, Chris Pratt and Dave Bautista are just tall
Guardians of The Galaxy Vol. 2 hits theaters May 5, 2017. Be sure not to miss its whopping five post-credits scenes.