Now Even the Pope Has Given a TED Talk 
 "Science points to an understanding of reality."
by Monica Hunter-Hart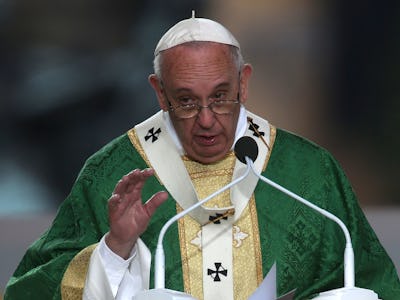 Getty Images / Justin Sullivan
Tuesday's events at the 2017 TED Conference included a surprise guest whom the TED organizers have apparently been trying to bring onto the show for years: the Pope. It was a remarkable choice for this conference, which is known for talks that are innovative and forward-looking, to bring in a religious figurehead holding a position that's existed for over 1,000 years.
It was also a brilliant choice, because Pope Francis delivered wise words of warning, reminding us not to forget to consider the repercussions of scientific and technological growth upon our societies and the environment.
Such development must also promote "equality and social inclusion," he said, speaking to the audience from the Vatican via a television screen and subtitles.
The problem, he described, is the world's "techno-economic systems," which, "without even realizing it, are putting products at their core, instead of people."
These words are very much within character for Pope Francis, whose anti-capitalism messages are famed. He also cautioned the audience against what he called a pervasive "culture of waste" across the globe and said that we must fix our "sick and polluted Earth."
The Pope declared that science does not exist in a vacuum and that the philosophy behind science proves it.
"Science points to an understanding of reality as a place where every element connects and interacts with everything else," he said.
He noted that actual human beings are often forgotten behind rapidly changing tech and scientific advances.
"While we discover faraway planets," he said, we must also "rediscover the needs of our brothers and sisters around us."