Uber's Flying Car Partners Want People to "Fly Like Peter Pan"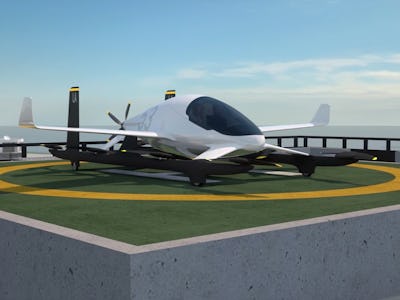 YouTube / Aurora
Uber unveiled five major partnerships with the aerospace industry during its first annual Elevate Summit this week, a splashy two-day event meant to offer color on the UberAir, the company's plan to use vertical take-off and landing vehicles as a new form of commuter transport.
It seems that the overall goal for Uber is to develop an all-electric vehicle capable of vertical take-off and landing for two-or-more passengers commuting through metropolitan communities, the various companies Uber has struck deals with are each approaching this idea through a different lens and methodology. Here are what the various heads of those companies had to say Tuesday afternoon.
Paulo Cesar de Souza e Silva, CEO of Embraer
The Takeway: Founded in Brazil in 1969, Embraer is the third-largest aircraft manufacturer in the world. The company is aiming to leverage that incredibly vast manufacturing arm as a precursor to building aerial vehicles en masse. There wasn't a whole lot that de Souza e Silva could say about any specific projects relevant to UberAir's "elevate ecosystem," but he described it as a unique opportunity in which the company intends to be involved in all arms of the aerial vehicle industry's future: manufacturing, operation, maintenance, and regulation.
Dullest Silicon Valley aphorism: "Innovation is in our DNA," de Souza e Silva said. As if no other company believes that for themselves.
John Langford, CEO of Aurora Flight Sciences
The Takeaway: This company is extremely bullish on how to pull out the booming potential of drones and pivot that toward passenger vehicles. Langford illustrated that the rise in drones has correlated strongly with a decline in the number of FAA-licensed pilots. "It's a steady, downhill decline," he said. The company's proposed Electric VTOL Aircraft is a two-person passenger vehicle that seems to fit exactly within what Uber envisions for urban aviation — an aircraft that lifts off and lands through a hovering mechanism, but transforms into wing-borne flight as it moves laterally through the air over large distances.
Weirdest analogy for a drone ever uttered: Drones, according to Langford, open up an opportunity to "fly like Peter Pan flies." Do they now?
Michael Thacker, Executive Vice President of Technology and Innovation at Bell Helicopter
The Takeaway: Bell Helicopter is thinking about urban air transport with an eye for turning helicopter-type technology into something that's not only produced at a more cost-effective rate but also possesses an incredibly sleek design. The company is essentially combining its design team and engineering team into a single unit that creates innovative technologies with a creative eye. To that end, Bell Helicopters uses VR technology as a platform for playing around with different ideas and developing a vehicle that's adaptable and modular depending on different needs.
Most awkward way to relate to the real world: "We have to ask ourselves," Thacker said during his presentation. "Am I ready to get into this aircraft with my ten-year-old daughter? Is my neighbor?"
Ivo Boscarol, CEO of Pipistrel
The Takeaway: Pipistrel, based in Slovenia, loves to be green. Boscarol made an impassioned argument that his company was a pioneer of electric aerial vehicles, citing a decade's worth of new vehicles as evidence. "We were the first to believe in electric flight" 20 years ago, he said. And he's looking to ensure that people will accept electric vehicles as a viable option for aerial transpiration, and have confidence in these type of engines. "Believe me, people are afraid of electric flight." He hopes making electric flying cars a reality can put a real dent in air pollution and stymie the carbon dioxide emissions caused by the transportation and aviation industry.
The street crew argument for being green: Boscarol noted that "Slovenia is one of the greenest countries in the world," citing supporting evidence as the fact that 65 percent of the country is covered in forest. Not bad, although it's still unclear how that equates to being green in the tech sense.