'Ajin: Demi Human' Drops an Incredible Live Action Teaser
"Let your heart guide you, and you face ruin."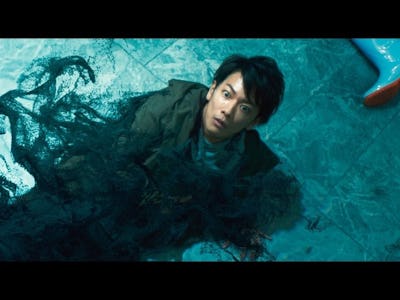 Katsuyuki Motohiro
Fans of freaky paranormal stories, buckle up. The dark Japanese demon story Ajin is being adapted into a live-action film, and the first teaser makes it look awesome.
Gamon Sakurai's Ajin: Demi Human manga follows a societal eruption when Japan discovers that half-demon, half-human creatures live among them. Demi-humans, as they're called, don't know what they are until they're killed — they respawn horrifically at the scene of their deaths, and after a while, they're able to produce black, ghostly creatures out of their souls. These creatures, called IBM (Invisible Black Matter), are only visible to other demi-humans, but they can kill anyone.
When teen Kei Nagai is hit by a bus, he comes back to life in the middle of the crowd mourning him, and he has to escape into the woods to evade government capture. Kei is the third known Ajin (demi-human) in Japan, and he suddenly becomes a wanted criminal. He soon learns that demi-humans, like full humans, are cruel, and will stop at nothing to protect themselves.
Director Katsuhiro Motohira's live-action film has aged Kei (Takeru Sato) up quite a bit, making him a twenty-something medical intern, rather than a high school student. Other than that change, however, it appears the film will stay faithful to both the manga and the popular anime series.
The film's first teaser depicts a couple of Season 1's most thrilling scenes, including Kei's transformation (0:01 - 0:07), Kei being experimented on when he's captured (0:07), Sato's press junket in which he tells the public that Japan is cruelly experimenting on Ajins (0:14 - 0:16), and Kei and Sato shooting themselves in order to respawn with full health (0:18 - 0:20). What we don't get is a full shot of an IBM, but perhaps those will come in time.
Watch the full teaser below.
The Ajin: Demi Human anime is available to stream on Netflix, and the live-action Japanese film will hit theaters in Asia this September.