The 10 Most Promising Anime Airing this Fall, 'Drifters' to 'Ajin'
Who needs American television when there is so much anime?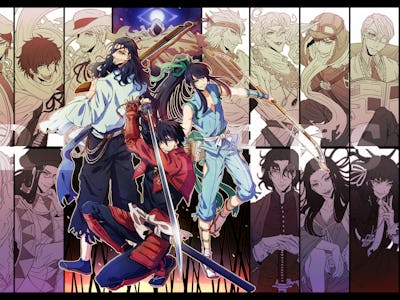 alphacoders
The fall season of anime series starts in October. This year, there are a range of shows to hold you down until the long-awaited return of some of the more well-known anime like Boku no Hero Academia, Attack on Titan, and Seven Deadly Sins. Seven Deadly Sins is set to air a four-episode special starting on August 28; however, the official release date for the second season of the show has yet to be announced. Attack on Titan is reported to finally be released in Spring 2017. Since Boku no Hero just ended, we can expect some time before the official release date of the second season is announced.
Because there is so much anime to watch, it can be difficult deciding which show you should focus on. Not every anime is filled with large fight sequences and epic battles. There is something for every type of fan – including comedy, drama, and mystery. Here are just 10 of the most promising anime that you should be watching this fall.
1. Drifters
Genre: Action, Adventure, Fantasy
If you are into violence and uncensored, bloody anime, then this is the right show for you.
2. Ajin (Season 2)
Genre: Horror, Mystery, Supernatural
Ajin has a great story line, but the animation leaves a lot to be admired. You either hate the animation or you love it. But, once you get past that little detail, it is an interesting story.
3. Trickster: Edogawa Ranpo "Shounen Tanteidan" yori
Genre: Mystery
Although detective mysteries do not make for the most popular of anime, they are amazing when done well. Keep an eye on Trickster as it has the makings of a good mystery anime.
4. Bubuki Buranki: Hoshi no Kyojin (Season 2)
Genre: Mecha, Action
What's better than giant, fighting robots? Nothing.
5. Touken Ranbu: Hanamaru
Genre: Fantasy
This anime follows a group of people who must stop a group of individuals who want to change history. If you're a history buff, this one can be the anime for you.
6. Nanbaka
Genre: Action, Comedy
Here's a little secret: If an anime takes place in a prison, you should probably watch it. Nanbaka looks like another funny anime that definitely will be a joy to watch.
7. Occultic;Nine
Genre: Mystery, Sci-Fi
Sadly, the trailer is not available in the U.S. But, paranormal science and ghosts is always an intriguing world to delve into. This story follows 9 individuals whose journey and discoveries might alter the world.
8. Brave Witches
Genre: Action, Magic, Military
Set in Eastern Europe, these women fly the skies — protecting the area of enemy invasion and threats.
9. Bungou Stray Dogs (Season 2)
Genre: Mystery, Drama, Supernatural
Another mystery drama? Yes. It's a genre that needs much more love and recognition than it gets.
10. Mobile Suit Gundam: Iron-Blooded Orphans
Genre: Mecha, Action, Sci-Fi
After all these years, Gundam is still going strong. As previously stated, nothing is better than giant, fighting robots.