The 'Resident Evil' Spin-Off Movie Will Be Full of Blood and Gun Fu
It's awesome — and gross.
by Monica Hunter-Hart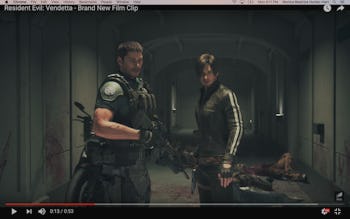 Photo via Sony Pictures Entertainment Japan
A newly released scene from the forthcoming movie Resident Evil: Vendetta is gory enough to warrant a YouTube content warning. Protagonists Chris Redfield and Leon Kennedy battle a crew of zombies with close range gun fu, and their massacre is recorded in detail with zoomed-in shots and sickening sound effects.
It looks like we're in for a wallop of a violent film with Vendetta, the third CGI spin-off of the live-action Resident Evil movies that are themselves based on the popular Resident Evil video game series. Vendetta takes place between the sixth and seventh installments of the video game series, and it stars Chris, Leon, and Rebecca Kennedy, who are among the best heroes in the game's universe. They team up to stop Glenn Arias from spreading a lethal virus in New York City. Here are some of the opponents they'll fight:
The Resident Evil live-action films are generally considered to be pretty terrible, though the CGI spin-offs are viewed a bit more positively — especially the last, 2012's Resident Evil: Damnation. Of course, that one had some real content besides just superficial gore, which is pretty much all we get from this new Vendetta clip.
We'll see how Vendetta does when it's released in Japan on May 27, and in North America on June 19 for a one-night only theatrical release. For now, watch the trailer below.