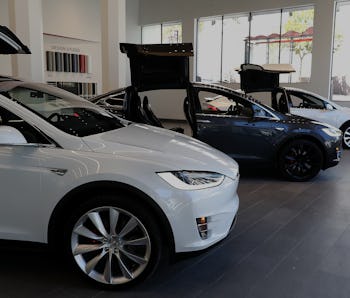 Innovation
Here's Why Tesla Just Recalled 53,000 Model S and X Cars
Getty Images / Justin Sullivan
On Thursday, Tesla announced its largest ever product recall, telling the owners of 53,000 Model S and X vehicles around the world that their all-electric whips needed a fix. The problem, specifically, is that one of the gears in the electric parking brake of its Model S and X cars has the potential to break. While the company says there haven't been any accidents due to the issue, it's recalling all of the cars just to be safe.
The problem only impacts Model S and X cars built between February and October of 2016, according to the statement on the Tesla website. Although Tesla is recalling over half of the cars it produced in 2016, the company told says that only about five percent of the cars are likely to have faulty gears.
In Tesla's announcement, the company states it's safe to keep driving the cars with parts under recall. Tesla states that if the gear does break, the parking brake will continue to work, but the car could get stuck with the parking brake engaged.
The massive scale of the recall is due to the fact that the design of the gear in the parking brake makes it hard to determine which cars are actually affected, according to the Tesla safety announcement.
It will take about 45 minutes to replace the brakes in affected cars, reports Reuters. Freni Brembo, the Italian supplier for the affected parts, will be sending Tesla the replacements. Tesla says that the company expects to have enough replacement parts to fix all of the affected cars by the end of October, and that it won't have an impact on its finances. An official notice will be sent to the affected customers, Tesla says.