Everything We Know About HBO's Planned 'Fahrenheit 451' Movie
It was a pleasure to burn.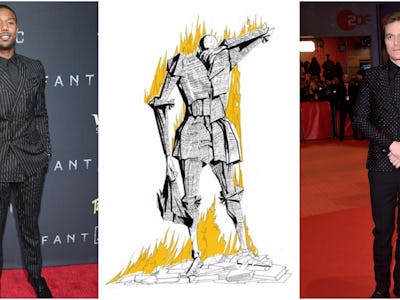 News broke on Wednesday that HBO is working on a film adaptation of Ray Bradbury's classic dystopian novel Fahrenheit 451. Although the project is just in the earliest development stages, Variety reports that HBO is nearing a production commitment and has already snagged two major actors, Michael B. Jordan and Michael Shannon, to play the leads. Here's what we know about the project so far.
For anybody who didn't read Fahrenheit 451 in a high school English class (or who wrongly wrote off the book because it was an assignment), the 1953 novel imagines a world where books are burned. Knowledge is tightly controlled, and firemen are tasked with setting any hidden contraband books aflame.
Jordan, who is best known for his roles in Creed and the newest Fantastic Four movie, has been cast to play the hero, Guy Montag. When the book starts, he's a fireman who dutifully destroys any literature he finds. Over the course of the story, though, he starts to wonder if maybe there's something lacking in his life, and maybe there's something worthwhile in all these books he once thought were "a pleasure to burn."
Guy's fireman captain and mentor, Beatty, will be played by Michael Shannon. The actor, who is known for his recent roles in Man of Steel and Nocturnal Animals, will serve as an antagonist since he's a firm supporter of the government and its book burning policies. HBO has not revealed any additional casting information.
In addition to playing the star, Jordan will also executive produce the movie. There isn't a premiere date yet.
This won't be the first time that Fahrenheit 451 had been adapted, as it was made into a movie back in 1966 that took some small liberties with the plot. If you want to know more about the story that HBO has chosen to adapt, you could check out the film. Or, you know, read the book.