Spider-Man is Officially Sticking Around the MCU for 'Avengers 4'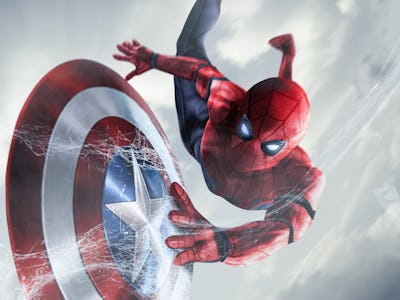 BossLogic
Peter Parker's friendly neighborhood Spider-Man will officially be swinging into action alongside the Avengers until at least 2019. Marvel boss Kevin Feige recently confirmed that Spidey will appear in Avengers 4 in 2019, with a Spider-Man: Homecoming sequel planned to premiere later that same year.
"That's as far as it goes for now," Feige told The Hollywood Reporter's Heat Vision, explaining that Marvel hasn't decided upon any further Spidey-centric stories after those aforementioned 2019 projects. But that's not necessarily true.
Tom Holland, who's playing Marvel's latest iteration of the famed web-slinger, is currently signed to a six-movie contract with Marvel Entertainment, the same contract Captain America actor Chris Evans signed to at the beginning of his run.
"I do know I have three Spider-Man [appearances in other] movies and three solo movies contracted," Holland told The Hollywood Reporter back in November 2016.
After playing Peter in Captain America: Civil War, Homecoming, a rumored appearance in Avengers: Infinity War, Avengers 4, and a Homecoming sequel, Holland would still have one final film — a solo project by the sound of it — to fulfill.
Feige also revealed that Spider-Man officially won't be involved with any of Sony's upcoming Spider-Man spin-offs, which include a Venom standalone film and a Silver Sable, Black Cat team-up.
"We had a very particular plan about Spidey himself," Feige said of keeping Spider-Man firmly within Marvel's MCU and among the Avengers. So don't expect a Spidey cameo in the upcoming Venom movie.
Spider-Man: Homecoming premieres in theaters July 7.