Here's Why Kendrick Lamar's New Album Still Might Drop on Easter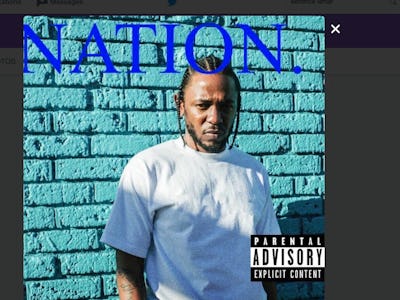 Twitter/ @helloimivan
On Friday, Kendrick Lamar dropped his new album, DAMN., and it was his first release in over a year, following 2016's untitled unmastered comp. It's also his first full album since To Pimp a Butterfly came out a year before that.
Since last week, the internet began swirling with rumors that DAMN. was the first of a two-part series, to be followed by a second album called NATION. It hasn't happened yet, but it still might.
This all started when redditor scottvosper said "I THINK I FIGURED OUT KENDRICKS NEW ALBULM" on April 11. To make a long story short, this person hypothesized that the album art for DAMN. contains an anagram that corresponds to the Christian story of Good Friday, which just so happened to be the day the album came out. Therefore, scottvosper professed, a second album would come out on Easter Sunday, two days later. You can read a rundown of the religious explanation here.
Easter Sunday has come and nearly gone, and NATION. still hasn't dropped. But that doesn't mean it won't.
Kendrick Lamar takes the stage at Coachella Valley Music and Arts Festival at 10:35 p.m. Pacific (1:35 a.m. Eastern), and some have speculated that he'll reveal his new album then.
Other evidence suggests that NATION. might still come out, too, including album art and track titles:
Don't let this evidence get your hopes up, though. A very quick investigation reveals that, even though the track title "RESURRECTED." would fit perfectly with the Easter Sunday theory — Easter is the day that Christians say Jesus Christ rose from the dead — this tweet is most likely fake. The first track on DAMN., titled "BLOOD.," is 1 minute and 58 seconds, exactly the same length as this supposed new track. This looks like a case of Photoshop.
There is always the possibility, however, that Kendrick Lamar would make the track lengths the same on NATION. since that album is meant to complement DAMN.
There's even been a rash of fake NATION. drops on Sunday, some of which link to other artists such as Soulja Boy Tell 'Em in the iTunes Store. Classic Twitter. It's kind of funny, though.
As of this article's publication, there's still no new Kendrick Lamar album. But keep refreshing that browser just in case it happens. In the meantime, you can listen to DAMN. to pass the time.