A Lot of Old Characters Cameo in 'The Fate of the Furious'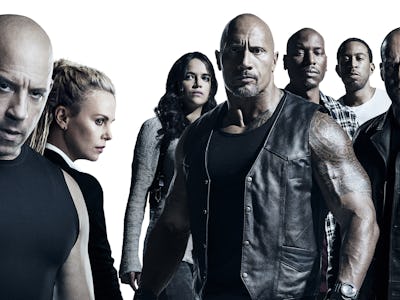 Universal Pictures
Ride or die, remember? Across eight movies, the Fast & Furious films have featured a huge cast of characters. And whether they're expert drift racers or professional criminals, they all eventually become like family. But sometimes, you just can't remember the names of everyone in your family, and that's very much the case here.
The Fate of the Furious finds Vin Diesel's Dom going rogue against his own family. All the mainstays are back: Dwayne Johnson returns as Luke Hobbs, who now operates under heavy cover; Roman (Tyrese) and Tej (Ludacris) still behave like an angry married couple as they fight for the affections of hacker Ramsey (Nathalie Emmanuel). Michelle Rodriguez returns as Letty, living in married bliss with Dom until he meets Cipher, a hacker played by Charlize Theron. There is also a large number of cameos by characters that appeared in previous FF movies, which is where things get tricky.
Given the insanely twisted timeline of the series, it's a bit hard to keep track of who is who. So for fans who leave the theater wondering why people were knowingly clapping for random actors on screen, here's a guide to the little people you're supposed to know. Spoilers are below.
Leo and Santos
They first appeared in the 2009 short film Los Bandoleros directed by Vin Diesel. Leo Tego (Tego Calderón) and Rico Santos (Don Omar) make their fan-pleasing return since disappearing after 2011's Fast Five. They were last seen gambling their hard-earned money in Monaco. It is unknown if they won or lost, but Tej (Ludacris) says they were now in Monte Carlo in a throwaway line in Fast & Furious 6.
Absent in Furious 7, the two bickering clowns return for The Fate of the Furious by assisting Dom in his betrayal of Cipher (Charlize Theron). They retrieve Deckard Shaw's (Jason Statham) body after Dom "shoots" him in front of Cipher, allowing Deckard to escape and recruit his brother …
Owen Shaw
The bad guy of Fast & Furious 6, Luke Evans returns as Owen Shaw to join his brother Deckard in a covert mission. He was Dom's target in the sixth film, and his brother swore revenge in Furious 7. But now that everyone's on good terms (for some reason), Deckard recruits Owen — literally and figuratively scarred from his defeat — to help him infiltrate Cipher's sweet airplane base of operations.
Elena
Elsa Pataky returns as Elena, the woman Dom took up with after he thought he lost Letty (Michelle Rodriguez) after 2009's Fast & Furious. Dom and Elena met in Fast Five and got together in the end. But their relationship ended in Fast & Furious 6 when Letty returned after suffering amnesia. Elena made a brief cameo at the beginning of Furious 7, but her role is much significant in The Fate of the Furious.
The Fate of the Furious is now in theaters.