Finn's Treehouse Is Candy Now in New 'Adventure Time: Elements' Clip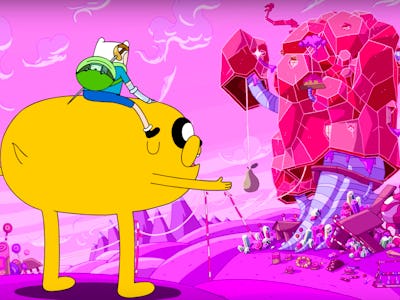 Cartoon Network
Finn learned the truth about his mom and discovered where the rest of the world's humans were during his time at sea in the Islands mini-series, but something sweet happened to Ooo while he and Jake were gone. It's not sweet in a good way, though: something has literally turned the land into candy in an exclusive clip from the upcoming Adventure Time: Elements mini-series.
In the four-night, eight-part event, which kicks off on Monday, April 24, Finn and Jake return to find that there have been some pretty drastic changes to their home. The treehouse, which is normally, you know, made of tree, has been transmuted into a sugary candy mashup. There are no signs of life at first, though Finn, Jake, and BMO find an open bottle of "Big Baby Root Beer," which Finn notes that nobody usually drinks because it's too sweet. Except, someone was just drinking it, and they're still in the house.
The concept of elements was first introduced to Adventure Time in the sixth season episode "Evergreen", which was set in a magical Cretaceous period. During this episode, we learn that the periodic table is a little different in Ooo. The four main elements are ice, fire, candy, and slime. In the aptly named seventh season episode "Elemental", we learn that the current embodiments of the four elements are Patience St. Pim, Flame Princess, Princess Bubblegum, and Slime Princess, respectively.
Last we saw Patience St. Pim, who is a much more ancient Elemental than the other three, she was promising that she had big plans for Ooo. Based on what we know about the Elements mini-series, it seems like maybe she took action while Fin and Jake were away. And, based on what happened to the duo's treehouse home, it sure seems like Princess Bubblegum's candy powers might've gotten a little out of control.
A new episode of Adventure Time, "Orb," airs Friday, April 21. The Elements mini-series kicks off on Monday, April 24, with two new episodes each night before wrapping up on Thursday, April 27.