After Fatal Accident, Tokyo Disney Cancels 'Attack on Titan'
'Live Impact Attack on Titan' has closed its doors for good.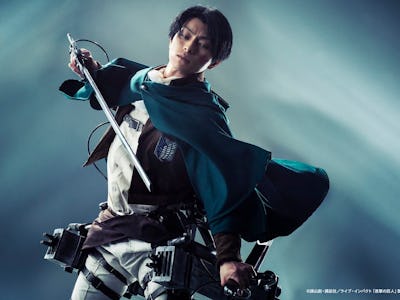 This week, a Japanese aerial performer was killed on the set of Live Impact Attack on Titan, a play that was to be hosted this summer at Tokyo Disney. Today, the company has announced it will shut down all production in response to their loss. The live-action stage adaptation of Hajime Isayama's manga could not recover from the loss of Kazutaka Yoshino, whom the producers called "irreplaceable."
The play, which was scheduled to run from July 28 to September 3 at Tokyo Disney's Maihama Amphitheater, has not only been shut down, but much of the production's social media and promotional materials have been removed from the web. Cancelling the production is the opposite reaction to what many productions with on-set accidents have done in the past; one recalls the troubled Spider-Man: Turn off the Dark, which lumbered forward despite several injured cast and crew.
Live Impact Attack on Titan was the only live-action adaptation of the wildly successful manga in production. It's been several years since Shinji Higuchi's Japanese, two-part film adaptation, which did moderately well at the Japanese box office but was panned critically. In January, Warner Bros. was reportedly eyeing the property to make an American live-action film, but there has been no movement forward on that front.
Season 2 of the critically-acclaimed Attack on Titan anime began this month and is being simulcast from Japan on Crunchyroll.