Josh Brolin is Officially Playing Cable in 'Deadpool 2'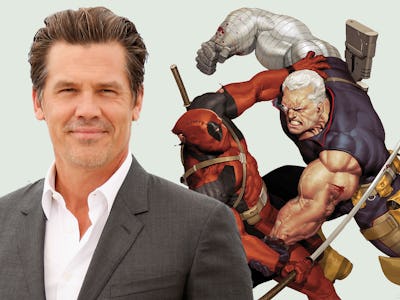 Getty Images/Marvel
Leave it to Deadpool to surprise us. Josh Brolin has been cast to play the gruff mutant Cable opposite Ryan Reynolds's Merc with a Mouth in the upcoming sequel, Deadpool 2. Brolin, who already plays the Marvel Cinematic Universe's big bad Thanos, wasn't one of the popular names being floated about as a possible frontrunner, making his sudden casting a bit unexpected.
The Hollywood Reporter broke the news on Wednesday, revealing that Brolin "emerged as a surprise contender." He's reportedly signed a four-picture deal with Fox, the studio behind the Deadpool and X-Men movie franchises.
Prior to news of Brolin's casting, fans were eagerly tracking down every possible contender for the part. Michael Shannon and Stranger Things star David Harbour were both seriously considered by the studio, but fans also pushed for some less-grounded candidates, including Brad Pitt, Pierce Brosnan, and Russell Crowe.
Brolin, despite being a talented actor who has played a straight man role in a comedy before (2016's Hail, Ceasar!), wasn't a major suspect. It's possible that fans ruled him out because, you know, he's famously been playing the biggest villain in the MCU ever since The Avengers, and Thanos is only going to get more and more screentime as we near Infinity War. That, apparently, isn't a problem. Although Thanos and Cable are both Marvel characters, different movie studios own the film rights to the characters. With few exceptions, Fox's X-Men movies have no overlap with the MCU. That means Brolin is free to don the Infinity Gauntlet in one and put up with Deadpool's shit in another.
Deadpool 2 doesn't have a release date yet.