After United Airlines, Searches for "Volunteer" Go Up 1,900%
Merriam-Webster used this fact to troll the airline.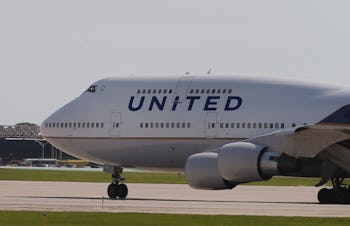 Getty Images / Scott Olson
The world is talking about Sunday's incident in which a male passenger was literally dragged off a United Airlines flight by the crew and sustained injuries. Merriam-Webster, one of the most popular American dictionaries, took issue with United's official statement after the event and didn't hesitate to take the airline to task.
United's CEO announced: "Flight 3411 from Chicago to Louisville was overbooked. After our team looked for volunteers, one customer refused to leave the aircraft voluntarily and law enforcement was asked to come to the gate. We apologize for the overbook situation."
Many folks noticed United's misleading use of the word "volunteer." A person can't be forced to volunteer; volunteering is, well, voluntary. People flocked to Merriam-Webster to look up the word, and the dictionary reported that searches for the term went up 1,900 percent in the aftermath of the debacle.
That statistic is calculated based on "what users are looking up at that moment on Merriam-Webster.com," not search traffic from Google, Meghan Lunghi, the dictionary's director of marketing, clarified for Inverse.
That trend was interesting on its own, but then Merriam-Webster proceeded to troll United Airlines. They tweeted out the definition and noted the trend.
This isn't the first time Merriam-Webster has commented on the news. It often uses its role as a respected reference material to fight falsehoods in the era of "alternative facts." In fact, the dictionary called out that Kelly Conway-ism:
Ivanka Trump hasn't been spared either:
Merriam-Webster has commented on the word choices of other figures in the Trump administration, too. Lauren Naturale, the manager of the dictionary's social media operations, explained to Motto that this isn't to be vindictive. "We are reporting that a certain public figure's use of language provoked the curiosity of many Americans, and sent them to the dictionary for information about the nuances of spelling, meaning or usage," she explained.
Still, Twitter sees Merriam-Webster's actions as a kind of linguistic activism and wants more:
If Merriam-Webster had operated like this back in 2009, it could've chided United then, too, by clarifying the definition of "careful" luggage handling. But the now-booming Twitter platform provides a wide-reaching medium for the dictionary to develop a political voice.