The FAA Just Released a No-Fly-Zone Map for Drones
Check this map before you fly!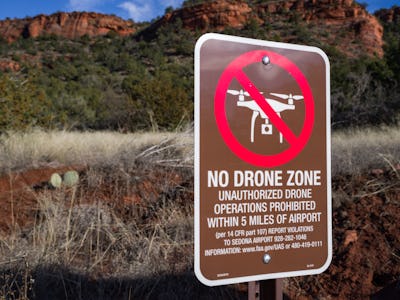 Flickr / Coconino National Forest
Emerging technologies bring new regulations, and consumer drones are a prime example. The Federal Aviation Administration is instituting a new airspace restriction banning drones over military facilities. Starting on April 14, the FAA ban will go into effect, making it illegal to fly drones too close to 133 military facilities around the United States. Anyone who violates the restriction could face criminal charges, civil penalties (fines), and possible revocation of their drone license.
Fortunately, it shouldn't be too hard to make sure you don't run afoul of the law — and no, we don't mean flying stealth drones. Along with this new set of no drone zones, the FAA has released an interactive map that shows you exactly where these new areas are. This way there should be no question as to whether you're operating your drone in compliance with the law.
Most of the restricted zones are at military bases around the country, which are usually pretty obvious to the casual observer. Some places, like bombing ranges in rural areas, may be less apparent. Plus, these can look like pretty appealing places to go fly your drone because they're unpopulated.
The new FAA ban adds to the FAA airspace restrictions already in place for drone operators in the U.S. For instance, it's still against FAA regulations to operate a drone within five miles of an airport. So even though a place like New York City may not show any restrictions under the new rule, most places in the city are within five miles of an airport, so you still can't fly a drone there.
If you're feeling unsure about whether you're about to launch a drone in a No Drone Zone, the FAA has an easy-to-use smartphone app called B4UFLY. It lets you see whether you're standing in a place that has airspace restrictions. That way you don't have to find out the hard way. The new FAA ban takes effect April 14.
If you're interested in the specifics, here is the full text of the rule:
FDC 7/7137..FDC SECURITY..SPECIAL SECURITY INSTRUCTIONS FOR UNMANNED AIRCRAFT SYSTEM (UAS) OPERATIONS FOR MULTIPLE LOCATIONS NATIONWIDE APRIL 14, 2017 APRIL 13, 2019 LOCAL.
PURSUANT TO 49 U.S.C. § 40103(B)(3), THE FEDERAL AVIATION ADMINISTRATION (FAA) CLASSIFIES THE AIRSPACE DEFINED IN THIS NOTAM AS 'NATIONAL DEFENSE AIRSPACE'. OPERATORS WHO DO NOT COMPLY WITH THE FOLLOWING PROCEDURES MAY FACE THE FOLLOWING ENFORCEMENT ACTIONS:
A.THE UNITED STATES GOVERNMENT MAY PURSUE CRIMINAL CHARGES, INCLUDING CHARGES UNDER 49 U.S.C. § 46307.
B.THE FAA MAY TAKE ADMINISTRATIVE ACTION, INCLUDING IMPOSING CIVIL PENALTIES AND THE REVOCATION OF FAA CERTIFICATES OR AUTHORIZATIONS TO OPERATE UNDER TITLE 49 U.S.C. §§ 44709 AND 46301.
PURSUANT TO 14 C.F.R. § 99.7, SPECIAL SECURITY INSTRUCTIONS (SSI), ALL UAS FLIGHT OPERATIONS, INCLUDING PUBLIC, CIVIL, AND MODEL AIRCRAFT, ARE PROHIBITED WITHIN THE AIRSPACE OVER SELECT NATIONAL SECURITY SENSITIVE FACILITIES, SURFACE TO 400 FEET AGL, EXCEPT AS PROVIDED FOR BELOW. THE LIST OF SELECTED FACILITIES, DEFINITIONS OF THE ASSOCIATED AIRSPACE IN WHICH UAS OPERATIONS ARE PROHIBITED, DESIGNATED FACILITY CONTACTS, AND OTHER IMPORTANT INFORMATION ARE PROVIDED AT THE FOLLOWING FAA WEBSITE: HTTP://UAS.FAA.OPENDATA.ARCGIS.COM.
UAS OPERATIONS ARE AUTHORIZED WITHIN THE DEFINED SSI AIRSPACE IF IN COMPLIANCE WITH THE REQUIREMENTS LISTED BELOW:
1.THE UAS FLIGHT OPERATION HAS BEEN PRE-APPROVED BY THE DESIGNATED FACILITY CONTACT BASED ON CRITERIA ESTABLISHED BY THE SPONSORING FEDERAL AGENCY IN COORDINATION WITH THE FAA; OR
2.IF THE UAS FLIGHT OPERATION IS CONDUCTED IN DIRECT SUPPORT OF AN ACTIVE NATIONAL DEFENSE, HOMELAND SECURITY, LAW ENFORCEMENT, FIREFIGHTING, SEARCH AND RESCUE, OR DISASTER RESPONSE MISSION, AND PRIOR NOTIFICATION HAS BEEN PROVIDED TO THE DESIGNATED FACILITY CONTACT; OR
3.IF THE UAS FLIGHT OPERATION IS CONDUCTED IN DIRECT SUPPORT OF A SIGNIFICANT AND URGENT GOVERNMENTAL INTEREST AND IS APPROVED BY THE FAA'S SYSTEM OPERATIONS SUPPORT CENTER (SOSC) IN ADVANCE OF ENTERING THE DEFINED SSI AIRSPACE; AND
4.THE UAS FLIGHT OPERATION COMPLIES WITH ALL OTHER APPLICABLE FEDERAL AVIATION REGULATIONS.
IF YOU HAVE GENERAL QUESTIONS REGARDING UAS OPERATIONS, PLEASE REFER TO WWW.FAA.GOV/UAS/CONTACT; OR CONTACT THE FAA VIA EMAIL AT UASHELP@FAA.GOV OR PHONE AT (844) FLY-MY-UA.
IF YOU HAVE QUESTIONS REGARDING THESE UAS SSI, PLEASE REFER TO THE FOLLOWING FAA WEBSITE: HTTP://UAS.FAA.OPENDATA.ARCGIS.COM; OR CONTACT THE FAA'S SOSC AT (202)267-8276.
1704140000-1904132359