Maybe That Space Divorce Between Russia and America Won't Happen Yet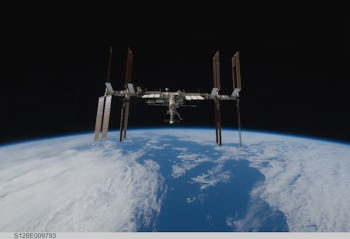 Flickr / NASA's Marshall Space Flight Center
It looks like Russia might not be ready to quit the International Space Station after all. Contrary to previous statements that Roscosmos, Russia's space agency, would not be part of the multi-national space program past 2024, the agency's director announced Tuesday that he's willing to consider a four-year extension.
"We are ready to discuss it," general director Igor Komarov said at the 33rd Space Symposium in Colorado Springs, according to Reuters.
This is something of a surprise, given the degree to which Roscosmos has been scaling back its involvement with ISS business. In addition to downsizing its space station crew from three to two last year, Roscosmos had also announced that it wouldn't be sending anymore U.S. astronauts to the ISS after 2018 — though that is very likely to change given the delays in NASA's Commercial Crew Program.
The relationship between the two countries' space programs has been mutually beneficial for decades. In recent years, the ISS crew has been comprised of three Russians, two Americans, and one other astronaut from an ISS partner nation. Since 2011, when the Space Shuttle program was shuttered, NASA has relied entirely on Russian Soyuz launches to carry up American astronauts up to the space station.
Prior to this (somewhat non-committal) announcement, the Russian plan was to see the ISS collaboration through to its conclusion in 2024, at which point it would detach its modules and set up a lower-orbit outpost of its own. It's not clear exactly what prompted the possible change of heart, though speculation can certainly be tied to the implications of recently renewed U.S.-Russia partnerships. For his part, Komarov said that the desire to prolong U.S.-Russia cooperation stemmed from the volume of medical and technological work that still needs to be done aboard the ISS in order to facilitate human travel to deeper space.
"We appreciate that … political problems do not touch this sphere," Komarov said during the symposium. "We adjusted and made some minor changes in our programs … but it doesn't mean that we don't want to continue our cooperation."