Here's What BioWare is Bringing to 'Mass Effect: Andromeda'
The upcoming patch is set to fix dozens of major issues with more improvements on the way.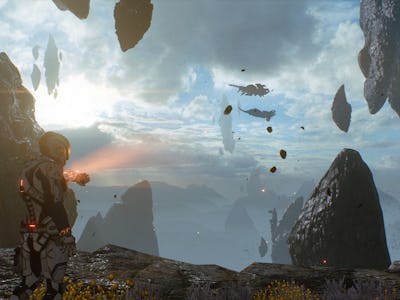 Nicholas Bashore
It's been two weeks since Mass Effect: Andromeda launched across the board to a very mixed reception from fans looking forward to BioWare's next epic space adventure. While the game wasn't nearly as bad as the dozens of animation memes suggested it was following the game's Early Access release ahead of the real launch, players did have some serious concerns about Andromeda's performance, multiplayer latency, and technical glitches. While BioWare has remained relatively silent, today general manager Aaryn Flynn posted a series of short-term and long-term changes the team is bringing to Andromeda.
The first in a series of patches will release on all platforms this Thursday, April 6 and bring improvements like an increased inventory limit, the option to bypass the long transitions when traveling between different locations in space, and making it a little easier to purchase the equipment needed to instantly solve Remnant puzzles. The update is going to address a few animation and visual issues too, such as Ryder's running animation and improving the appearance of human and asari eyes throughout Andromeda.
The patch addresses the current matchmaking and latency issues affecting Andromeda's multiplayer experience as well while bringing a new three-part event called "The Remnant Investigation" for players to dive into. In the future, we'll start to see more free maps, characters, and equipment released for multiplayer with each new patch too.
In the post, Flynn also detailed BioWare's plans for future Andromeda patches over the next few months, including adding more options and variety to the character creator, improvements to hair and general appearance for characters, ongoing improvements to cinematic scenes and animations, improvements to Scott Ryder's romance options, and conversation adjustments for specific characters you'll encounter in the game. Every upcoming patch will also address performance and stability issues across PlayStation 4, Xbox One, and PC, which will hopefully help Andromeda retain a more stable frame rate.
Odds are we'll see more detailed announcements regarding upcoming patches in the coming weeks from BioWare, but for now it's good to see the development team working to improve the major issues players have experienced during their first two weeks with the game.