Joss Whedon: "There's No Better Legacy" for 'Buffy' Fans Than This
by Monica Hunter-Hart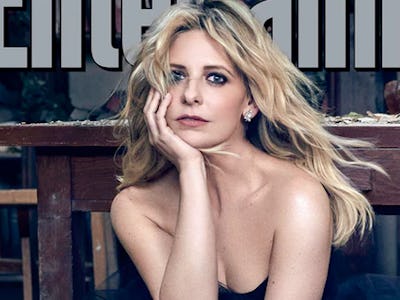 Photo via Fanbase Press
Buffy the Vampire Slayer just got an ironically-timed tribute. Just as Netflix made the huge error of deciding to remove the entire Whedonverse from its site, Buffy's legacy got a wonderful show of confidence from Entertainment Weekly.
In case you were in denial, maybe thinking that Buffy's departure wouldn't be that big a deal, Joss Whedon and the cast appeared to remind you of the show's importance in an interview that accompanied EW's photoshoot.
Everyone emphasized the impact that the show had on its audience. Sarah Michelle Gellar (Buffy) said that Buffy's depiction of the horrors of adolescence (these figurative struggles manifest literally in the show as demons, monsters, and magic) helped young viewers "to understand that you're not alone through that." Nicholas Brendon (Xander) said that one of his favorite lingering boons from Buffy is getting "to meet the fans, see how the show affected them, got them through a hard time."
Whedon implied that the struggles portrayed in the show were inspired by his own experiences. "People getting strength from my own little terrors," he said, "There's no better legacy."
The cast described the show's impact not only on viewers but also on their own lives. Each of the actors is arguably still best-known for the role he or she played on Buffy, though most have gone on to do some excellent work since. Alyson Hannigan (Willow), who's had her fair share of famous characters in TV series and films such as How I Met Your Mother and American Pie, acknowledged that her part in Buffy trumps them all: "It was just a gift. … It was the role of a lifetime."
"We have been a part of something that's bigger than us, that still holds up," said Gellar. "It's all you can ever really hope for."
Any chance of reconsidering, Netflix?