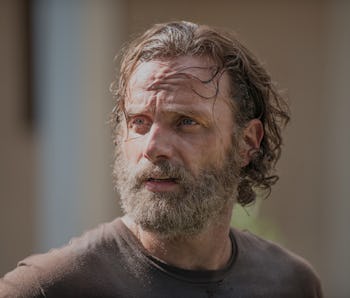 Entertainment
Rick Grimes Knows How He Wants to Die on 'The Walking Dead'
AMC
Despite any momentary patches of happiness during the zombie apocalypse, most of the characters on The Walking Dead are expected to die at some point. Even Andrew Lincoln's Rick Grimes will (probably) one day bite the dust. And he knows exactly how he wants to go.
At 2017's PaleyFest in Los Angeles, Lincoln described exactly how he wants Rick to go out and what he wants the last shot of The Walking Dead to be, a plan that was met with cheers and plenty of laughter from his gathered co-stars (mainly Melissa McBride and Sonequa Martin-Green) and special effects makeup artist Greg Nicotero. Basically, Rick will go out looking for Carl ("Caaaarrlll!") and end up getting bitten before realizing that he's been the cure all along.
In what Lincoln describes as a very heroic action, "I jump off [a bus], and I'm, like, kung fu kicking. You know, earn my action figure, right? Halfway through, I get bit. 'Ow!' Doesn't matter. Keep going. 'Caaaarrlll!'… I'm dying, on my own, just waiting to die. I wait, and I patch up, and a day passes… But I don't die. The final shot is: 'Holy shit! Maybe I'm the cure!' Final shot of the whole thing: high shot, herd of zombies coming. Rick gets up, follows the tracks to go see 'Caaaarrlll!' High shot of this, walking — the herd comes toward him, and they separate. He walks through. BOOM!"
It's a dramatic end for a dramatic character. And, of course, he'd have to be dramatically yelling for his son the whole time, as Rick is known to do. At least this is proof that Lincoln really, truly knows his character after all these years.
The Walking Dead airs Sundays on AMC at 9 p.m. Eastern.