The 7 Must-Read April Fantasy Books
From 'Skullsworn' to 'American War,' here's your April fantasy reading list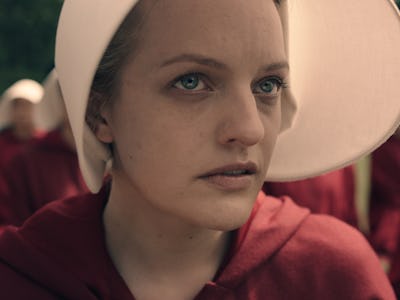 Hulu
Between the long-awaited adaptations of American Gods and The Handmaid's Tale, April 2017 is a big month for fantasy TV. But April is also set to be a major fantasy month in the book world: from dystopias about the second American Civil War to epic stories in far away kingdoms, here is a list giving you one book a week for the duration of the month.
7. The End of the Day by Claire North
This intriguing urban fantasy is about a modern day grim reaper, a man whose boss is actually Death because he is a Harbinger of death. Although the premise sounds whimsical — along the lines of Good Omens — this novel is lyrical and emotionally impactful. The Harbinger must recognize the soul in each person, no matter how abhorrent they are.
Release Date: April 4
6 Red Sister by Mark Lawrence
The first in an epic new series, this novel is set in a convent that raises young girls to be killers. Gritty and grim, think Game of Thrones if Arya and her Faceless Man training were the main focus.
Release Date: April 4
5. Waking Gods by Sylvain Neuvel
Sylvain Neuvel's Sleeping Giants was a unique and ambitious story of discovery, history, and aliens. Absorbing and mysterious, it's a truly original story. If you like the show The OA, you'd like Sleeping Giants and Waking Gods.
Release Date: April 4
4. American War by Omar El Akkad
This literary fantasy novel has a simple yet chilling premise: that a second American Civil War happens in 2074. In this world, oil is outlawed and Louisiana is mostly underwater. In a similar vein as Station Eleven and The Handmaid's Tale, this future world feels all too plausible.
Release Date: April 4
3. Walkaway by Cory Doctorow
This novel paint a future world in which modern society has broken down. Anyone can print fold and shelter from computers, climate change has wreaked havoc, and conflict brews between the rich and the poor. As a result, thousands of people have decided to voluntarily walk away from society. Doctorow is a master at building fully realized dystopian worlds — and as this is his first adult novel in eight years, it's highly anticipated.
Release Date: April 25
2. Skullsworn by Brian Staveley
Skullsworn is a standalone novel set in the world of Staveley's Chronicle of the Unhewn Throne. You don't need to have read it to enjoy it, but the Unhewn Throne is also worth a read. Skullsworn is an epic fantasy involving warrior monks and assassins. Is there anything else you need to know?
Release Date: April 25
1. The Ship by Antonia Howell
This intriguing debut is set in a dystopian world in which civilization has dissolved into chaos, anarchy, and authoritarianism. The heroin's father seeks to create his own utopia on a ship bound for an unknown destination. Part Children of Men, part The Hunger Games, it's haunting and meditative.
Release Date: April 25
As a bonus, you should also beef up on both American Gods and The Handmaid's Tale if you haven't read them. Just because they will dominate April TV, doesn't mean the books aren't worth it too.