New AT-AT Walkers in 'The Last Jedi' Could Be Gorilla-Shaped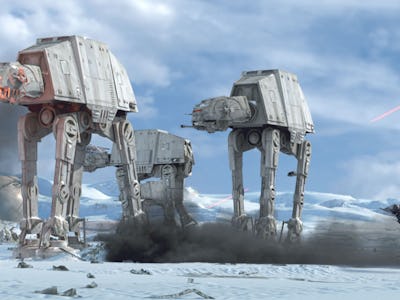 StarWars.com
The First Order just can't stop fiddling with classic Galactic Empire design. Starkiller Base in The Force Awakens was a new age Death Star and, now, rumors of a new kind of AT-AT Walker are surfacing for the upcoming Star Wars: The Last Jedi. And, supposedly, these new walkers they look like gorillas.
Popular Star Wars fansite Making Star Wars recently wrote that the First Order is getting an army of what are being called "First Order Heavy Assault Walkers," which are essentially just oversized, amped-up AT-ATs. "From the front it resembles a gorilla with its front arms firmly planted on the ground," the site says. "The front legs also have a tiny cross-bar type deal that allows its front legs to kind of scoop forward and then scoop back. In the very brief moment I saw a demonstration of the walking motion, it had a very different rhythm and pace from the classic AT-AT."
And while there's no confirmation of a source for this information, the post goes on to ensure Star Wars fans that there will be a lot of these bad boys traipsing around in The Last Jedi. Supposedly, an army of them will be involved in a large sequence at some point in the film.
The thicker design promised for the weapons' new legs and their increased size might prove them more difficult to topple over this time around. The Resistance might need some bigger cables.
Star Wars: The Last Jedi premieres in theaters December 15, 2017.