Here Are the 8 Known Bugs in 'Pokemon GO'
Gotta catch 'em all ... while it's working.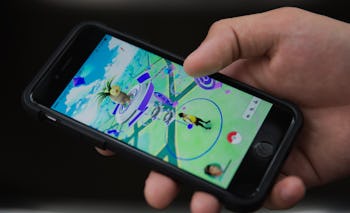 Getty Images / Tomohiro Ohsumi
There's a new Pokémon GO update, but not everyone is too happy. Niantic's latest update, version 0.59.1 for Android and 1.29.1 for iOS, launched last week and promised an evolution item reward and minor text fixes, but it's kind of a mess.
Fans have noticed lag issues, the game crashing when scrolling through a gym, connectivity issues, and missing Pokémon models. Niantic has produced its own list of bugs, and it's shaping up to be a rather accident-prone version of the game.
It's not the first time Niantic has released a buggy update for the game, and some of the bugs that fans complained about then are still showing up months after launch. The initial launch in July came with a disclaimer that players could run into some serious issues. Some show-stopping bugs included unavailable location, missing premium items and resetting progress.
It's notable that the initial version officially listed seven major bugs, and almost a year later some of them are still surfacing in newer versions, with even more added to the list.
In October, some fans noticed more frequent crashes in the newly-released version than previous versions. On the Silph Road fan subreddit in November, one user compiled a bumper list of issues that have yet to be resolved. The list totaled out at 36 bugs, many of which have yet to be officially acknowledged by Niantic.
It seems that individual player experiences depend on the phone. The Pokémon GO main subreddit is full of both posters irritated with new update bugs and posters pleased to report old bugs resolved. Where some find a new release less buggy than others, some find new issues surfacing for the first time.
Niantic itself has officially identified eight bugs in the latest version:
Pokémon GO becomes stuck on a blank screen after loading
If you have this problem, rest assured. The developer claims a fix should be "available shortly," although when it will launch is anyone's guess.
Pokémon GO Plus accessory is unable to connect to your phone
The $34.99 wearable accessory straps to the wrist and allows the wearer to identify when Pokémon are nearby and collect items by pressing its button. The accessory uses a Bluetooth connection to the smartphone to ensure the wearer doesn't need to keep their phone constantly open, but it seems this may not be working for some.
I cannot see sponsored PokéStops or Gyms
This could be because your account lists you as under 13. Unfortunately, branded Pokéstops are only for players aged 13 or over.
The app is stuck on the loading screen (Android)
If the company's servers are playing up, this could be an issue. Niantic recommends checking that your phone is definitely running the latest version of the game, and that you have not restricted access to Google Play Services and Google Play Store for background data services.
PokéCoins and premium items do not appear in my account
Niantic suggests signing out and signing back in to see if that resolves the problem. Go to the Main Menu inside the game, the Settings, then sign out and back in again. Failing that, players can switch off their phone and turn it back on again to see if that solves the problem.
Trainer progress temporarily resets to Level 1
Niantic stresses that player progress may sometimes seem like it's been lost, but chances are it's just hiding.
Heavy battery use
Niantic says that it is "working on a solution" to players that may notice their battery draining faster than usual.
My location is incorrect, unavailable, or jitters/drifts
Niantic recommends checking the following settings:
Pokémon GO has location permissions enabled
Internet connectivity is enabled (3G, 4G, Wi-Fi)
Device location/GPS is enabled
Location/GPS set to high-accuracy mode
Failing that, the company promises that it's "constantly working" to improve GPS accuracy and stability.