The History of 'Starlog' and Science Fiction Journalism 
The sci-fi news magazines of the past created the future we live in.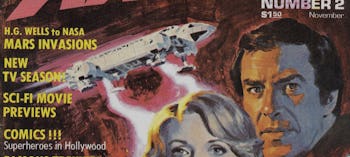 Starlog
In 1986, Mark A. Altman was a young Trekkie serving as the editor of his college newspaper. Seemingly out of nowhere, he was invited to the set of Star Trek: The Next Generation. The invitation put him on his professional trajectory, an arc that took him from student journalist and part-timer for the The Boston Globe to renowned science fiction journalist.
"I was a kid when this happened; Paramount sent this list of suggestions on how to write about The Next Generation," Altman remembers, "and like number 26 on the list was 'visit the set.' So I did, and it was a big deal: I got to see all the new uniforms, the ship, everything, way before that show came out."
Writing for the bygone print magazines Starlog and Cinefantastique, writers like Altman existed in an earlier, far less formal version of the fan service universe we live in today. Now instead of in-depth conversations, journalists wait all day at carefully pre-planned junkets for three-minute interviews, while fans pick apart blurry set photos and wait in line for days to intake in a panel at Comic-Con. The small world dominated by Starlog, Cinefantastique, and a few other magazines has expanded into a gigantic commercial universe of science fiction and fantasy culture. "Geek journalism" now is very different than its Starlog roots. So how did we get here?
Starlog was founded in 1976 by Norm Jacobs and Kerry O'Quinn. Both worked in print media in the '60s, and prior to Starlog, they published a magazine about soap operas called Daily TV Serials. O'Quinn originally planned to make Starlog a high-quality Star Trek-only fan magazine. "But they couldn't get the Star Trek license from Paramount, so they threw some other sci-fi stuff in the mix," Ed Gross, who wrote for the magazine, tells Inverse. "And that was a year before Star Wars came out, which changed everything."
Gross's career began in a way wannabe journalists could only dream of now: He found filmmaker Christopher Columbus's name in the phone book and interviewed him about Gremlins and Young Sherlock Holmes. Gross sold the article to Starlog, and the rest was history.
Gross's editor was David McDonnell, Starlog's longest-tenured editor. He began his career writing a column for The Buyer's Guide For Comic Fans, and was hired by Starlog in 1982. By 1985, he was the editor-in-chief of the magazine and held that position until the publication ended its run in 2009.
"We may have been entertainment journalism, but we were still journalism," McDonnell tells Inverse. To this day, McDonnell still feels that what the magazine did was no different than what other news organizations that covered the real world would do. "We may have covered bug-eyed monsters, time-travelers and superheroes — all sorts of fictional fodder — but we had journalistic standards," he explains.
With a circulation of roughly 100,000 per issue, and at least 15,000 paid subscribers at its peak circulation in 1982, Starlog was the most well-known of the early sci-fi magazines. It led to some close encounters with the people it covered, many of which involved the classic cast of the original Star Trek. From steak dinner with Deforest "Bones" Kelley, to being kissed by Nichelle Nichols (Uhura on the original Star Trek), the Starlog boss rubbed elbows on the regular with some of the biggest geek icons of the 20th century, the kind of access that would make a contemporary journalist space-alien green with envy.
"Back then, everyone loved Starlog because they wouldn't publish anything bad," Mark Altman says, in effect providing a retort to McDonnell. In the '80s, Altman contributed the occasional article to Starlog but ended up writing primarily for the rival sci-fantasy magazine called Cinefantastique.
McDonnell maintains his magazine did in fact run risky or negative coverage from time to time. "Stories angered plenty of publicists, agents, producers, occasional studio executives, and interviewees over the years," he says. He cites an article that was critical of Roger Moore's performance as James Bond; Starlog discovered that Bond-producer Albert "Cubby" Broccoli was rather displeased with the publication. Broccoli didn't retaliate, but instead, granted more access, not less, killing with kindness. "Amazingly, Broccoli later agreed to do a rare interview with us," McDonnell says.
Despite its size and scruples, Starlog wasn't the only sci-fi game in town. "It was fantastic," Mark Altman says of writing for Starlog, "but my heart was in writing for Cinefantastique, which was much more sophisticated, eclectic and in-depth."
Founded ten years before Starlog, the coverage of sci-fi, fantasy and horror in the pages of Cinefantastique was often more harsh. "Cinefantastique took the genre very seriously. We never considered ourselves a fanzine," Altman says. "The first thing I ever wrote for them was an investigative piece about the revolving-door of the writers' room on Star Trek: The Next Generation. Everyone was writing these sort of obsequious suck-up pieces, but I did something different, and I talked to everyone."
In 1986, Gross tracked down the screenwriters of Superman IV and got an exclusive interview sneak peek of the next big DC superhero movie. He also had a connection with J.J. Abrams during his time making Alias. "J.J. was great," he remembers. "He'd get you anything you wanted and help you speak to virtually everyone." And when Alien: Resurrection was in development, Gross found a fledgling writer named Joss Whedon to interview him about writing the script. "How many Joss Whedon's could there be in the phone book? There was only one. So I called him. And I had a connection with him that lasted for years," Gross says.
"Back then, it was a different world," Altman says. "You didn't have DVDs with all this behind the scenes material, you didn't have these licensed magazines, and you didn't have the internet. There was a hunger to get people to cover these things, and publicists were eager to work with you, not control everything. I would spend days on the set of The Next Generation and Deep Space Nine. That's unheard of these days."
The 1990s saw sci-fi reporters get even bolder. After leaving Cinefantastique in 1991, Altman launched a new print magazine funded by Hustler's Larry Flynt. "Sci-Fi Universe was snarkier and we criticized the powers that be," Altman says. But there began to be consequences to this real-talk; as "geek" media began to enter the mainstream, the studios became threatened by negative backlash, even more than in the early Starlog days. And they had new outlets to contend with.
Sci-Fi Universe went out of business in 1999, and Cinefantastique shut down its print run in 2006; and though Starlog existed in print and digital form until 2009, the majority of serious conversations about film and TV science fiction eventually moved to the internet. Harry Knowles's Ain't it Cool News was an early pioneer of the internet's Wild West of nerd conversations and film criticism that sprung from message boards and newsgroups. Ain't it Cool shaped geek media of the early 21st century, partly because it was a more agile version of the snark that defined Altman's Sci-Fi Universe and did not have the constraints of a glossy magazine that required a lot of advertising dollars.
"We scared the studios early on," Drew McWeeney, an early AICN contributor tells Inverse. "They had no idea who we were and couldn't figure out how to find a way into the conversation."
McWeeney wrote for Ain't it Cool under the name "Moriarty," a moniker given to him by Knowles because he viewed McWeeney, at least at first, as a kind of antagonist.
McWeeney's initial interest in writing for Ain't it Cool stemmed from his desire to fight the "broken" system of test screenings of film releases, specifically corruption within the National Research Group, a market research organization that gauges early audience reactions to films. "There was a huge break in the way filmmakers thought and what studios thought. For a studio, the message of a test screening could be: Kill this thing. That disconnect bothered me." Essentially, McWeeney viewed the machinations of NRG as a tentacle strangling the artistry of the films themselves. Writing about films objectively for Ain't it Cool was part of a way to remedy that injustice.
And yet, McWeeney believes that Ain't it Cool ultimately failed in its mission of being at totally independent entertainment publication. At some point, these sites have to make money, and to maintain both access and the freedom to be critical for a profitable online publication is, in McWeeney's estimation, impossible. "Writers who still do this now are the frog in the boiling pot of water. They don't feel it getting hot around them," he says. "99 percent of what exists in these online outlets, exists to serve the studios … the studios view entertainment journalists as an arm of publicity."
In between the age of Starlog and the present day, superhero movies became immensely more popular and financially viable: first in 2002 with Spider-Man and then again in 2008 with Iron Man and the rise of the new Marvel films. Simultaneously, from 2005 to 2010, the crusty British TV-Travel drama Doctor Who got a sexy makeover. Star Wars fandom went from nostalgists bemoaning George Lucas's mistakes to a multi-billion dollar juggernaut. Comic-Cons sprouted up across the world, and cosplaying went from anthropological curiosity to a profitable niche industry.
This mainstreaming of geek interests only created more publications willing to cover this material. In addition to Starlog and Cinefantastique, there were a few other similar publications like Fantastic Films, Cinema Odyssey, Future Life, and Cinemagic.
But now there countless entertainment news outlets, and then ones that focus on sci-fi and fantasy greatly outnumber the publications in the '80s and '90s. Because science fiction and fantasy is a bigger business now, and even more publications make it their business to write about it, the studios have tightened their grip on access accordingly.
The challenges online sci-fi and fantasy journalists face today are vaguely similar to those of McDonnell, Gross, and Altman in the Starlog era, only now it's much worse. These days, writing anything too negative about a big property can cost you your access nearly 100% of the time. The kindly and forgiving Cubby Broccolis are a relic of the past. "The studios figured out access was the one thing they could control more tightly," McWeeney says. The popularity and mainstreaming of science fiction and fantasy made the niche experts less, not more, important. Once studios realized they didn't need to grant such extensive access, they stopped doing so, he suggests.
There is now a definite hype cycle online. "It used to be about a movie you could see," says McWeeney, "but now, once a movie is out, everyone is on to the next thing."
For Gross, the future of the world of geek journalism has changed a lot since its Starlog-ed past. But Gross finds those personal touches are missing: "Now journalists get one interview, the same experience, and the stories are all pretty much the same."
Reflecting on how things have changed since his days editing Starlog, McDonnell feels like contemporary blogs freely "mix opinion with news." But it doesn't bother him, too much. "I view blogs as columns," he says, "where it really is often more about the writer than what he (or she) is writing about."
Altman now writes and produces for television and movies. And with exception of the occasional book — like last year's Trek oral history, The Fifty Year Mission (co-written with Gross) — he's retired from journalism.
Gross still freelances in the field which he helped chart in the '80s, but he sorely misses those deeply personal connections he once had with the creators of the science fiction and fantasy that he loves. The days in which Gross could call up a big writer or director on the phone and talk for hours are sadly long gone.
"After The Avengers," Gross says, "I couldn't ever get hold of Joss again."
Every issue of Starlog is available online for free in a digital archive. Some digital versions of Cinefantastique are similarly archived online.