'Rogue One' Death Troopers Are the SEAL Team Six of 'Star Wars'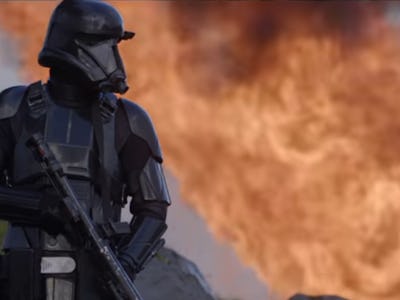 Moviefone/Lucasfilm
The Empire's Death Troopers are the elite of the elite and truly intimidating for a very good reason. The creators of Rogue One: A Star Wars Story wanted the opening scene to inspire the correct amount of fear in its audiences, so the designers turned to a Star Wars master.
"[Ralph McQuarrie] stylized the Stormtroopers [in the original trilogy's concept art] and made them very tall and very elegant, and we thought, 'Well, okay, this could become our SEAL Team Six version of the Stormtroopers," Doug Chiang, Lucasfilm's VP and executive creative director, says in a new exclusive Rogue One featurette clip from Moviefone.
The Death Troopers made their premiere in Rogue One at Orson Krennic's side, moving in specific formation to bring in the Erso family. While they may have lost the trail of a little girl, they're still the Empire's elite squad.
Chiang and his team wanted the Death Troopers to still fit within the realm of the Star Wars universe. So, they took the classic white Stormtroopers, thinned them up to match McQuarrie's original designs, and painted them black, resulting in the mean, lean look of the Death Troopers.
Learn more about the design of Rogue One and much more when Rogue One: A Star Wars Story arrives on Digital HD March 24 and on Blu-ray/DVD April 4th.