Who Is Technical Boy in 'American Gods?' 
Everything you need to know about the Joffrey of 'American Gods.'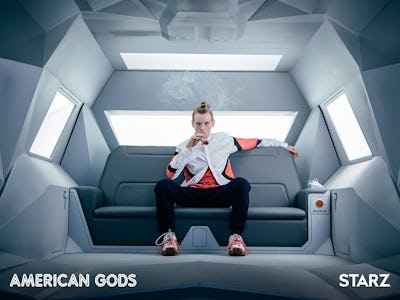 Starz
Neil Gaiman's American Gods is a sprawling story with a large cast of characters. As they'll be expanded upon in Bryan Fuller and Michael Green's upcoming television adaptation, we'll be providing character primers as the premiere approaches. First up? Technical Boy.
Spoilers inbound for American Gods, especially based on the book.
The story of American Gods revolves around a brewing war between old forgotten gods from various mythological pantheons and new gods Americans currently worship like technology and media. Protagonist Shadow (Ricky Whittle) is inadvertently thrown into the middle of it. After he's released from prison only to find that his wife has died, he accepts a job with mysterious grifter Wednesday (Ian McShane), who happens to be the Nordic god Odin. Shadow encounters Technical Boy shortly after taking up with Wednesday. Technical Boy has Shadow kidnapped and thrown in the back of his limo in order to pass on a threat to Wednesday.
Technical Boy is — you guessed it — one of the new gods. He's the personification of the internet. In the book, his aesthetic is similar to Comic Book Guy in The Simpsons. Rotund and pimpled, he's a teen with an inflated sense of self-importance. He fits into the early 2000's stereotype of a dude who spends too much time on internet message boards. Considering the fact that the novel was published in 2001, this makes sense. In the ensuing years, social media has changed the perceptions around what kind of person utilizes technology the most. The show's version of Technical Boy, played by Bruce Langley, is therefore getting an update for the modern era.
With his Justin Bieber-esque trendy haircut, flashy sneakers, and penchant for vaping, the show's version of Technical Boy is an Instagram kid on steroids.
Co-showrunner Bryan Fuller has spoken out about this update choice:
"The book sort of describes the quintessential overweight hacker that Donald Trump was shielding the Russians with. Now technology is much more socialized than it was 15 years ago. We see the integration of technology and all these other industries, particularly fashion. So we felt like it'd be an interesting evolution of the character if he was as fashion forward as he was tech savvy."
Technical Boy pops up at various points throughout the story, threatening old gods like Bilquis and generally being a douchebag. He's basically the Joffrey of American Gods. He's not there to be likable, but he's entertaining.
American Gods premieres April 30, 2017 on Starz.