BMW Designs a Car Entirely With Video Game Technology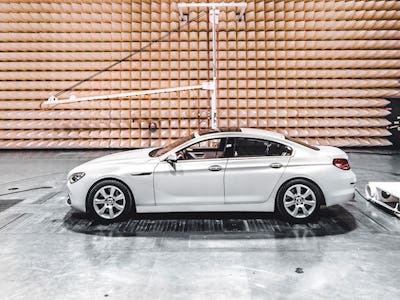 Getty Images / Alexander Koerner
While all car companies use virtual reality to design and shape their vehicles, even checking out the specs under the virtual hood, BMW announced on Tuesday that it's the first company to design a car "entirely using components from the computer games industry."
So yes, the same tech that makes Gears of War 4 now designs BMWs.
"The adoption of this computer system makes it possible to save a great deal of time and effort, especially during the early stages of development," BMW trumpeted in an announcement. "VR investigations could previously only be conducted at costly specialized facilities."
The company has been using HTC Vive headsets with a tracking system that covers 16.4 feet in each direction. This is coupled with a tracking system that fills the room with a light field invisible to human eyes, making head movements easier to track than is otherwise possible.
On the software side, the company is using the same Unreal Engine 4 underpinnings that power blockbuster games like the upcoming Final Fantasy VII remake. This enables 90 frames per second operation, minimal latency, and ultra-realistic graphics.
The headset and software are all powered by the sort of components found in gaming systems. A water-cooled, overclocked Intel Core i7 processor is paired up with two Nvidia Titan X graphic cards. The latter company is known in the autonomous car industry as the creator of the Drive PX 2 platform, which Tesla is using to develop a self-driving car system.
To top it all off, wearers sit in an interior assembly where the company can rapidly create new parts to recreate the experience. The interior is coupled with precise acoustic sounds, used to model the engine and simulate new environments.
"The completely realistic vehicle impression produced by this method is so far unique in the automotive industry," the company said in its statement.
BMW is working on interesting projects that would benefit from this design system. The company has partnered with Mobileye, a computer vision company working on a self-driving car system, to try and build up more accurate road maps. These maps, created using sensors fitted into 2018 BMWs, will help future autonomous vehicles navigate roads. Being able to use the Vive setup to test these upcoming models could help the company understand how the features will work during operation.
The company has also demonstrated an in-vehicle control center that allows drivers to change controls with a wave of the hand. At the 2017 Consumer Electronics Show, BMW demonstrated its HoloActive Touch panel that beams the controls into the air for users to interact with. These features, and more, will benefit from the HTC Vive setup to demonstrate prior to rollout.