What's New to Netflix in April 2017
Out with Buffy, in with Bill.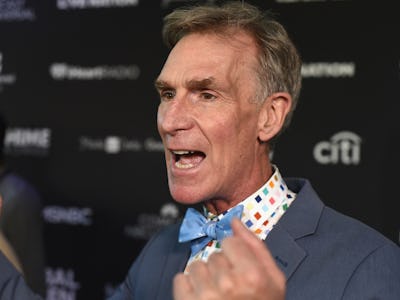 Getty Images / Noam Galai
Netflix will lose some star players in April 2017, including Buffy the Vampire Slayer and Ferris Bueller, but it will also bring us a lot of greats. We'll see more of The Get Down, Documentary Now!, and Legends of Tomorrow, as well as a bunch of cinema classics.
If, when looking ahead to your forthcoming life without Firefly, you think, "What now?," never fear: Kevin Hart will answer that question for you on April 11. [Bill Nye will save the world](https://www.inverse.com/article/27645-bill-nye-saves-the-world-premiere-date (finally) on April 21, and Louis C.K.'s got some new stand-up on the first of the month.
The highly-anticipated TV adaptation of Dear White People is coming at the end of April. A Netflix original movie starring Adam Sandler will appear midway through the month. And there will be plenty of time-honored films throughout: everything from Homeward Bound to Schindler's List.
Check out the full list below.
Available 4/1
A Weekend with the Family (2016)
A Nightmare on Elm Street (1984)
Across the Universe (2007)
An American Tail (1986)
An American Tail: Fievel Goes West (1991)
An American Tail: The Mystery of the Night Monster (1999)
Boy Bye (2016)
Born To Be Free (2016)
Cool Runnings (1993)
Good Witch: Season 2 (2016)
Gremlins (1984)
Only for One Night (2016)
Richard Pryor: Live & Smokin' (1971)
Scooby-Doo (2002)
Schindler's List (1993)
Something's Gotta Give (2003)
Thunderstruck (2012)
Wynonna Earp Season 1 (2016)
Trouble with the Curve (2012)
Tropic Thunder (2008)
The Tenth Man (2016)
Available 4/2
The D Train (2015)
Available 4/4
Chewing Gum Season 2 — NETFLIX ORIGINAL
Louis C.K. 2017 — NETFLIX ORIGINAL
Available 4/6
The BFG (2016)
Available 4/7
El Faro De Las Orcas — NETFLIX ORIGINAL
Dawn of the Croods Season 3 — NETFLIX ORIGINAL
The Get Down: Part 2 — NETFLIX ORIGINAL
Win It All — NETFLIX ORIGINAL
Available 4/8
Kubo and the Two Strings (2016)
Available 4/10
Documentary Now! Season 2 (2016)
Available 4/11
Kevin Hart: What Now? (2016)
Available 4/12
Legends of Tomorrow Season 2 (2016)
Available 4/14
Chelsea Season 2 — NETFLIX ORIGINAL
El Elegido (2017)
Mystery Science Theater 3000: The Return — NETFLIX ORIGINAL
Sandy Wexler — NETFLIX ORIGINAL
Available 4/15
Homeward Bound: The Incredible Journey (1993)
Slam — NETFLIX ORIGINAL
Available 4/18
Lucas Brothers: On Drugs — NETFLIX ORIGINAL
Available 4/19
A Plastic Ocean
Available 4/21
Bill Nye Saves the World Season 1 — NETFLIX ORIGINAL
Girlboss Season 1 — NETFLIX ORIGINAL
Hot Girls Wanted: Turned On Season 1 — NETFLIX ORIGINAL
Sand Castle — NETFLIX ORIGINAL
Tales by Light Season 2 — NETFLIX ORIGINAL
The Mr. Peabody & Sherman Show Season 4 — NETFLIX ORIGINAL
The Prestige (2006)
Tramps — NETFLIX ORIGINAL
Available 4/22
The Great British Baking Show: Masterclass Season 1-3 (2016)
The Secret Life of Pets (2016)
Available 4/23
Liv and Maddie Season 4 (2016)
Phantom (2013)
Available 4/24
Long Nights Short Mornings (2016)
Available 4/25
Queen of Katwe (2016)
The 101-Year-Old Man Who Skipped Out on the Bill and Disappeared — NETFLIX ORIGINAL
Vir Das: Abroad Understanding — NETFLIX ORIGINAL
Available 4/26
Real Rescues Season 6-7 (2012)
Trust (2010)
Available 4/27
Las Chicas del Cable Season 1 — NETFLIX ORIGINAL
Available 4/28
A Murder in the Park (2014)
Casting JonBenet — NETFLIX ORIGINAL
Dear White People Season 1 — NETFLIX ORIGINAL
Rodney King — NETFLIX ORIGINAL
Small Crimes — NETFLIX ORIGINAL
Available 4/30
Sofia the First Season 3 (2015)