Zac Efron Is a Douchey Ryan Lochte Parody in 'Baywatch' Trailer
But being a lifeguard is about a lot more than just being able to swim.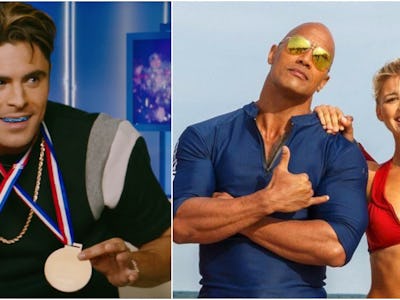 It's tempting to expect the worst when a decades-old TV show is suddenly revived as a multi-million dollar, nostalgic cash-grab of a movie, but Baywatch might actually be kinda fun. The new trailer, which dropped on Wednesday morning, highlights explosive action, murder, mystery, the Rock's "huge dick," and Zac Efron as an obvious parody of gold medal doofus Ryan Lochte.
Baywatch, a big-screen adaptation of the '90s-era series, seems like it has a sense of humor about itself. Based on what we can garner from the trailer, the lifeguards who patrol the beach are hot shit local celebrities. When they decide to add a new member to their ranks, one of the contestants who shows up for the tryout it Efron's Matt Brody, a two-time gold medal-winning Olympic swimmer. A quick shot shows Brody wearing a gold chain and gauche grills during a TV appearance, a look that very closely resembles Lochte, a beautiful fish-idiot.
Lochte, a 12-time Olympic medalist who once tried to trademark his catchphrase "jeah," gained infamy in the wake of the 2016 Games in Rio when he lied about getting robbed at gunpoint to cover up what really happened: He drunkenly peed on a gas station and trashed its bathroom. Like Lochte, Baywatch's substitute character — Brody — looks like he's about to learn a lesson that swimming skills and self-confidence aren't everything.
Baywatch's Lochte parody is a good sign that the writers behind the film have at least attempted to give the movie some reason to exist in the year 2017. Plus, the cast is charismatic and Dwayne "The Rock" Johnson is an American treasure.
Baywatch will usher summer in when it drops on May 26, 2017.