New Look at Felicia Day and Patton Oswalt in New 'MST3K'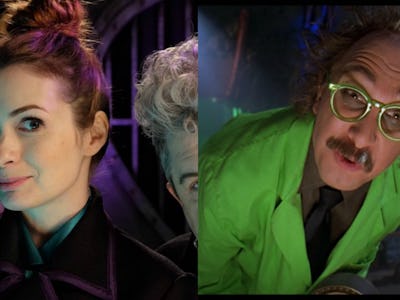 Twitter/Felicia Day, Mystery Science Theater 3000
The daughter of Dr. Clayton Forrester, Kinga Forrester, has given the world its first close-up look at her and her associate, Son of TV's Frank. Felicia Day, who will play the new Dr. Forrester in Netflix's upcoming reboot of Mystery Science Theater 3000, shared a photo of herself and Patton Oswalt's Son of TV's Frank on Twitter, less than a month away from the show's premiere.
Keeping in line with its cult predecessor, which ran from 1988 to 1999 on Comedy Central and the SyFy Channel, the new MST3K will follow the barely there story of two mad scientists (Day and Oswalt), forcing Jonah Ray's hapless worker bee to watch bad B-movies for science.
The new photo shows Day and Oswalt aboard the Satellite of Love, highlighted by purple light and donning dark army jackets. Oswalt's hair — a curly, white, artful mess — definitely steals the show, though, as he glowers into the camera.
The MST3K reboot will run for a total of 14 episodes for the first season, keeping closely to the familiar format of the original series.
Mystery Science Theater 3000 premieres on Netflix April 14.