Darth Vader Almost Killed Maul in 'Star Wars Rebels'
by Monica Hunter-Hart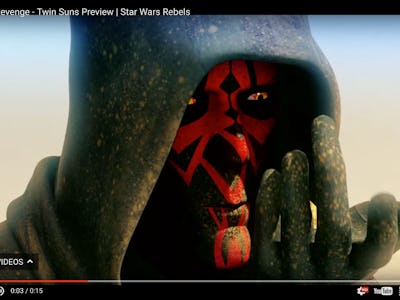 Photo from YouTube "Star Wars" Channel
This Saturday, Darth Maul and Obi-Wan Kenobi will finally have a highly anticipated showdown on Star Wars Rebels. There's some serious bad blood between the Jedi and the former Sith Lord: Not only did Obi-Wan slice Maul in half after he killed his master in The Phantom Menace, but Maul killed Obi-Wan's secret girlfriend, the Duchess Satine of Mandalore, in The Clone Wars. This third — and likely final— confrontation feels essential. But apparently, it wasn't originally intended to be part of the show at all.
Executive producer Dave Filoni revealed to iO9 that Darth Maul's storyline was originally supposed to culminate in a fight with Darth Vader, not Obi-Wan. Fans have long been enthralled by the idea of the two Sith Lords facing off; it's spawned a lot of fan fiction.
That would've been visually epic, but Filoni explained that the battle wouldn't have had the same emotional resonance as a clash between Maul and Obi-Wan. It was originally supposed to happen in the Season 2 finale, which was also Maul's first appearance on Rebels. The problem, according to Filoni, was that episode would have included "too many storylines."
"So, originally in that episode, you were gonna get Vader fighting Maul. Vader would have killed Maul and then fought Ahsoka," he explained. "It just became unwieldy."
This revelation is significant because it shows that the producers have been disposed to get rid of Maul for some time now. Looking ahead to this Saturday's battle, it already seemed safe to call Maul doomed. He doesn't appear in the original trilogy, for one thing, and the closure brought by Obi-Wan finally killing Maul after all of that aforementioned drama seems too perfect to bypass. Knowing now that the producers have been counting Maul's numbered days since his arrival, it appears even more likely that the former Sith Lord will meet his end this Saturday.
But obviously, we can't be sure. You'll have to watch "Twin Suns" on Disney XD at 8:30 p.m. EST on Saturday to find out. Even if the events play out as expected, the battle itself is sure to be an amazing watch, though it'll be tough to top the two's first showdown. The insane flips Maul pulled off then would look a bit different now with his robot legs.