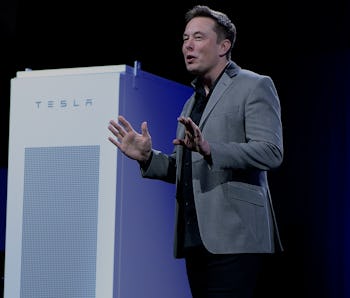 Innovation
Why Tesla Made $250 Million in Stock Available Today
Getty Images / Kevork Djansezian
Anyone looking to invest in Tesla, the curious electric car company run by Elon Musk, got some good news on Tuesday when, in a move to raise capital for an expectedly busy year, it made available $250 million in common stock.
The price immediately shot up after the 4:30 p.m. announcement, from $255 to nearly $264 a share in a matter of minutes. Musk will also buy $25 million in common stock, Tesla announced.
So what does it mean for a non-finance expert? Well, the additional stock being made available isn't a surprise, but the amount is, says Clark Schultz, an editor at finance website Seeking Alpha and founder of MoneyRates.com.
"Tesla's decision to raise capital in front of the ramp-up in production of the Model 3 was highly anticipated," Clark tells Inverse. "Investor reaction to the raise is likely to be split between the bullish camp that says the capital raise of [around $1.15 billion] is less than expected, while skeptics will point to the funding problems the EV manufacturer could continue to face."
Schultz makes clear that anybody could buy Tesla stock, of course. It's a controversial move to some, of course.
"The news just really means that Tesla needed to raise over a billion dollars to fund its plan to bring electric vehicles to the masses with its new Model 3," he says. "In the future, Tesla hopes to sell over 1 million electric vehicles a year and is using the capital raise to fund its growth."
Additional reporting by James Grebey