Someone Used a $3M Missile on a Cheap Drone You Can Buy on Amazon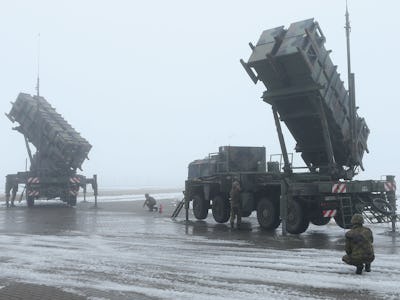 Getty Images / Sean Gallup
ISIS has taken to modifying commercial drones into weapons of war. They've used quadcopters — the cheap kind you can buy for yourself right now — to carry grenades and take aerial surveillance. Ironically, it's tough to figure out how to target this sort of DIY weaponry using the high-end, expensive technology to which more traditional militaries are accustomed. Case in point: a U.S. ally recently shot down a small quadcopter using a freaking Patriot missile.
Patriot missiles are colossal, powerful weapons, and are typically used to target other missiles—with forthcoming upgrades, they'll even be able to destroy high-speed aircraft. They can fly at five times the speed of sound. A quadcopter drone, on the other hand, tops out at around 50 mph.
General David Perkins admitted that the strike was a bit of a mistake, saying, "That quadcopter that cost 200 bucks from Amazon.com did not stand a chance against a Patriot…. I'm not sure that's a good economic exchange ratio." He did not reveal which ally had ordered the strike, according to the according to the BBC.
A researcher at the Royal United Services Institute, Justin Bronk, used even stronger language, calling the strike "clearly enormous overkill." Maybe it was a mistake? General Perkins did not disclose full details about the event — we don't even know when or where it happened.
But we do know that Patriot missiles have been mistakenly deployed against the wrong targets in the past, in part because they rely mostly on autonomous detection. During the Iraq War, Patriot missiles accidentally shot down both a UK plane and a U.S. fighter jet, killing three soldiers.
General Perkins warned, "If I'm the enemy, I'm [now] thinking, 'Hey, I'm just gonna get on eBay and buy as many of these $300 quadcopters as I can and expend all the Patriot missiles out there'." That's really not so hard to do — this is genuine cause for concern.
Which mysterious ally had this terrible idea, or made this ridiculous error? Somewhere, some military leaders are hanging their heads in shame.