Bill Nye Gives Donald Trump 5 Tips for How to Run NASA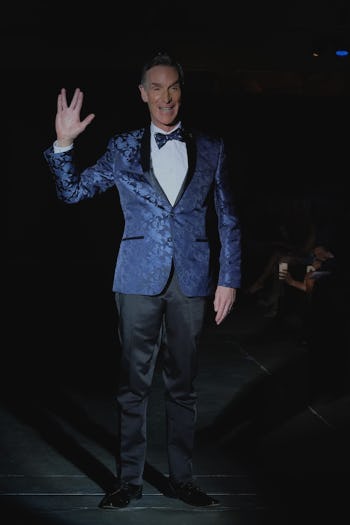 Getty Images / D Dipasupil
It's still unclear what President Trump has in store for NASA and America's space program. He's been enthusiastic about the potential growth of the private sector, and there's been talk of sending humans back to the moon among White House personnel. On the flip side, Trump may slash NASA's budget in order to free up these goals. NASA itself has some exciting plans to explore the cosmos coming up, particularly by sending humans to Mars by 2033 — and there are a ton of people eager to see the agency fulfill that goal.
On Tuesday, celebrity scientist Bill Nye, who also resides as the CEO of the non-partisan Planetary Society, posted a video message to Trump on YouTube on how the new administration should best support NASA.
"You have the opportunity to provide clear direction to our nation's space program," Nye said. "The advances and discoveries made on your watch could be historic."
NASA has had bipartisan support from both houses of Congress, especially since space travel inspires the nation and establishes the U.S. as a global leader in science. Nye said he would be pleased to discuss his recommendations with Trump, the vice president or their staff.
"There are two questions deep within each of us: where did we come from, and are we alone in the universe?" Nye said. "To answer these questions, we have to explore space. Historic discoveries await us. With your leadership, we may find life elsewhere in the cosmos, get humans on the Martian surface, and witness the opening of a new marketplace in space."
Here's what Nye has to say.
1. Mars is the goal
Congress just passed a bill that pushes NASA to concentrate its resources on missions to Mars. Nye believes Trump should support this goal by maintaining the existing Mars programs already in development: robotic missions, crew capsules, and rocket programs.
"Let's keep this momentum going and get humans to Mars in our lifetimes," Nye said.
2. Orbit Mars first
Before we even land humans on Mars, Nye says, we should orbit it first — just as we did in the 1960s with the moon. A Planetary Society workshop of more than 70 of the world's spaceflight experts found that if we send humans to Martian orbit by 2033, it would be much more feasible and affordable to land on the planet just a couple years later.
"We can get humans to Mars in just 15 years if we commit now and for the long term," Nye said.
3. Strengthen NASA science
Nye thinks Trump should support not just human space exploration, but all facets of NASA's scientific research: astrophysics (studying the cosmos), planetary science, heliophysics (studying the sun), and earth science — which is crucial to studying climate change. There's an economic incentive also — NASA engineers and technicians build robotic spacecrafts that support jobs in engineering, manufacturing, and science.
"I urge you to embrace the full potential of all of NASA's science programs so they can continue to lead the world in science, technology, and exploration," Nye said.
4. Embrace commercial space
With the rise of commercial space companies like SpaceX, Nye says we should invest in these companies, especially their efforts in low earth orbit. It's likely that Trump will embrace this recommendation, as he has previously met with SpaceX CEO Elon Musk to discuss goals like sending humans to Mars.
"Find ways to encourage this next generation of entrepreneurs and inventors to blaze a trail to Mars and beyond," Nye said. "There's a new movement for space happening today. Let's keep it going."
5. The Five-Over-Five Plan
What Nye means is that NASA should get a 5 percent boost in its budget every year for the next five years. With the budget NASA has now (which is only 0.5 percent of the federal budget), it does not have the resources to send humans anywhere beyond low Earth orbit. There has been bipartisan support for NASA budget increases, such as the most recent NASA bill passed by both houses of Congress that increases NASA's budget to $19.5 billion.
"These small increases would give NASA the resources necessary to achieve its goals," Nye said. "This is money that gets spent on Earth in the United States and supports tens of thousands of jobs across the country."