Marvel to Reveal How Darth Vader Got His Red Lightsaber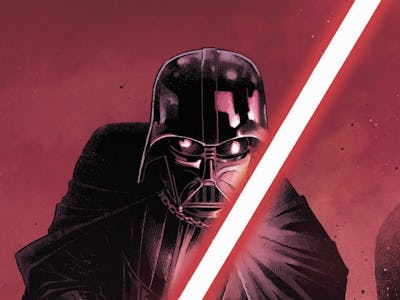 Chris Samnee (Marvel Comics)
Chopping off a few of Anakin's limbs did more than win the fight for Obi-Wan Kenobi; it also deprived Anakin of his trusty lightsaber. In Star Wars: A New Hope Luke was gifted that saber, the same one which Rey picked up over 30 years later. But how and when did Darth Vader — formerly Anakin Skywalker — get his red Sith lightsaber in between Revenge of the Sith and Rogue One? A new canon Marvel series will explain.
On Friday, Marvel writer Charles Soule spoke to IGN and explained that the new ongoing comic series will pick up "one second" after Anakin Skywalker is sealed in his Darth Vader armor in Revenge of the Sith. And the first thing Vader is going to do is to get himself a brand new evildoer lightsaber. "The first arc is going to revolve around Vader's construction of his red lightsaber because at the end of Revenge of the Sith, he obviously loses his blue saber," Soule said. "So we end up with a character who is known as having this iconic sword, like his magical red sword, but he doesn't have it yet."
Soule also mentioned that the series will explore how the fighting style of Darth Vader evolved over time. The way the Sith Lord behaves in Rogue One is very different than his youthful self in Revenge of the Sith. "In Rogue One, he's been doing this for many years," Soule said, "But our is Vader kind of in between. He's trying to figure out how to use the armor as opposed to the way he fought as a Jedi which was much more somersault-y and things like that."
The first issue of the new ongoing Darth Vader series will feature art from Giuseppe Camuncoli, probably most famous for his work on Spider-Man. Issue #1 will hit comic book stores on June 1.