GM Ditched Europe Because it's What Elon Musk Would Do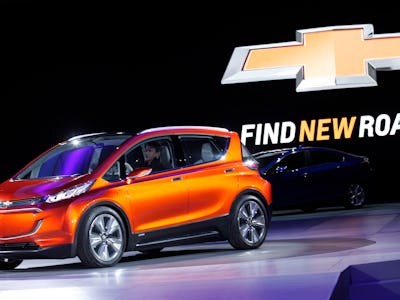 Getty Images / Bill Pugliano
GM's electric cars aren't making any money, and the company seems to think that's just fine.
In November, GM revealed that it stands to lose as much as $9,000 on every Chevrolet Bolt sold in the United States. It seems like an extreme hit on a vehicle with a $37,495 starting price before tax credits, but GM is playing the long game.
Last week, the American automaker handed over its Opel and Vauxhall brands to Peugeot SA in a $2.3 billion deal, effectively withdrawing from Europe, a market where the company saw nearly 20 years of continuous losses. For most automakers, downsizing is usually seen as a negative, but with the promise of a booming electric vehicle market on the horizon, GM decided to cut its losses and refocus on the future.
"GM has realized, why be in Europe if we're gonna lose money and restructure over and over with no results?," James Chao, Asia-Pacific managing director for analytics firm IHS Markit, tells Inverse. "So then you look at EVs, and could that become a much bigger profit area, and that's certainly possible."
If you want to understand why GM thinks EVs are the way forward, look no further than Elon Musk. A decade ago, Tesla had yet to release an electric car. Today, off the backs of three models, the company has a market capitalization — the total value of a company based on publicly traded stocks — of nearly $40 billion. GM, a well-established player that dominated the 20th century, has a market cap of $55 billion. In other words, investors are pouring money into Tesla, because they think it has the right idea about the future of cars — and GM likely wants in.
"Tesla's the best example of focus. They're in one segment," Chao says. "It happens to be the segment that investors value the most."
There are good reasons to invest in electric at this stage. It will attract early consumers, place in their mind that your brand is trustworthy on electric. It also gives time for manufacturers to refine their offerings and work out how to get the best performance out of individual components. It's also possible that GM sees a future in electric. Make no mistake, though: there's a good reason why GM is willing to pour money into electric, and it's got a T-shaped logo.
"These manufacturers, any of the publicly listed ones, are increasingly focused on shareholder value," Chao says. "The investor viewpoint, I think, is always on top of these CEO's minds."