GM's Out of Europe, but the Chevy Bolt Could Be Big in China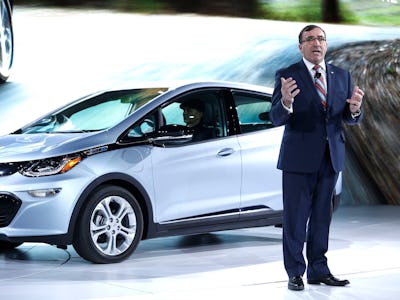 Getty Images / Bill Pugliano
General Motors announced on March 6 that it would sell European brands and pulled out of the market, which had failed to turn a profit for years. While downsizing can sometimes spell doom for automakers, experts say cutting ties with Europe has freed the company to pursue something more exciting — like the booming electric car industry in China.
"[Europe] does distract from more promising markets, so it's pretty positive, I think, that GM is making this move," James Chao, Asia-Pacific managing director for analytics firm IHS Markit, tells Inverse. "There's distraction in terms of not only share of mind, of GM's management, which is significant, but also of capital."
GM tried to crack the European market for years. Its Opel brand (Vauxhall in the United Kingdom) failed to turn a profit for the past 18 years, though. On March 6, the company called it quits, handing the brands over to Peugeot SA in a $2.3 billion deal. Peugeot SA is expected to benefit from GM's expertise in the electric vehicle market, while GM will benefit from not having to worry about Europe.
China seems like the perfect place for GM's electric cars to catch on. The government has an ambitious goal of getting five million EVs on the road by 2020. It's building hundreds of thousands of charging points, and it's pushing Beijing taxi drivers to switch to all-electric operations. High targets and heavy subsidies suggest the perfect opportunity for GM to capitalize.
But GM faces some problems. For starters, Chinese customers like the company's Buick brand far more than Chevrolet. For the second generation Chevrolet Volt plug-in hybrid, GM swapped out the logos and decals, rebranding the vehicle as a "Buick Velite" in the country. It already tried this once: prior to quitting the European market, GM announced the Opel "Ampera-e," which for all intents and purposes was a rebranded Chevrolet Bolt.
But Buick is seen as a high-end brand, which poses some difficulties for the company. Chao explains that GM will want to meet three goals to compete in China: offer vehicles at a low enough cost, meet local regulations, and attract consumers. If the company can get consumers to buy its entry-level cars, research suggests they'll stick with the company as they move upmarket. But low-range affordable competitors like the Chery eQ could set the bar too low for GM to compete.
"They'd like to price on a more premium level, so will they risk damaging their brand by a lower-priced vehicle? That's a good question," says Chao. "A lot of these foreign automakers, GM included, really don't want to play in this space."
And then there's the specter of a regulation change. Tesla, which posted $1 billion revenue from China alone last year, has raised concerns for investors that fear the company's success is based on relaxed licensing rules for electric vehicles. A sudden change could come about if China decides it can't afford to keep heavily subsidizing electric vehicles, or if external factors cause it to act in the wake of a changing global economy.
"It's uncertain how regulations could change," says Chao.