Marvel's 'Rogue One' Comic Shows Saw Gerrera Ditch Jyn Erso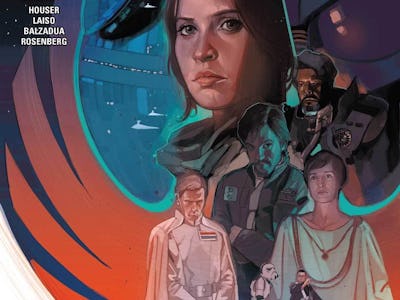 Lucasfilm, Marvel
Jyn Erso accused extremist leader Saw Gerrera of abandoning her years before Rogue One: A Star Wars Story, but Star Wars fans haven't gotten a first-hand look at that incident until now. Star Wars: Rogue One Adaptation is a six-issue comic series from Marvel and Lucasfilm that adapts the Rogue One story while adding a little extra context.
The first issue of the Rogue One series will be available in April, but a preview of the first issue from Marvel shows Jyn getting rescued from the clutches of the Empire in the knick of time, just like in the film. The door to the prisoner transport is destroyed in a fiery blast, though the preview shows no sign of a waiting K-2SO.
Then, Jyn is delivered to Mon Mothma, who explains the Rebellion's situation to her, much to Cassian Andor's disapproval. He looks on with narrowed eyes and a clenched jaw as Jyn quickly falls into the past.
The situation Jyn finds herself in looks to trigger a flashback of sorts as she recalls the moment Saw Gerrera abandoned her after having been at his side of years.
The addition of these kinds of scenes will undoubtedly make the comics adaptation even more heart-wrenching than the film itself, and that's saying something.
Star Wars: Rogue One Adaptation #1 will be available in comic stores April 5.