The Internet Freaked Out Over Paris Fashion Week's Rocket Launch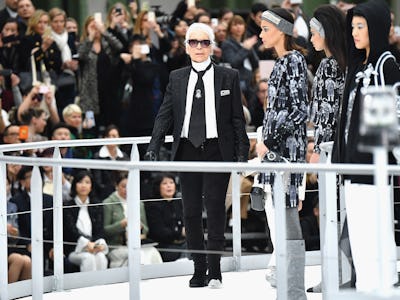 Getty Images / Pascal Le Segretain
Lately, a lot of people have turned to outer space for inspiration. SpaceX CEO Elon Musk will send two people to the moon late next year, and scientists just discovered a system of seven Earth-like planets. Turns out, Chanel head designer Karl Lagerfeld also has some cosmic ideas to take fashion to new heights.
At a Paris Fashion Week on Tuesday at the Grand Palais, models decked out in pristine white and glitter posed on a white runway. And at the grand finale, a Chanel rocket blasted off in a blaze of sparks and smoke towards the glass domed ceiling.
The show had a futuristic, galaxy-inspired theme, with models (including Kendall Jenner and Gigi and Bella Hadid) in monochrome, wearing sparkly boots, astronaut and planetary print, metallic armor, space blankets, and mirrored shades.
After a dramatic 10-second countdown, Lagerfeld and his 8-year-old godson Hudson Kroenig pressed a button to launch the 35-meter tall "Space Agency" rocket. None other than Elton John's "Rocket Man" played in the background.
The show was also a throwback to the original space race in the 1960s, with models wearing big hair and '60s inspired styles. Check out some more pictures and videos below.